New Route of the Day (15 November 2023): Vistara between Mumbai and Frankfurt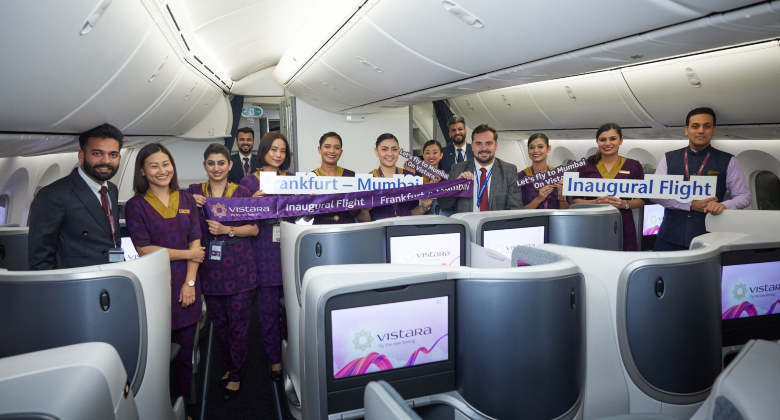 Vistara launched a new service between Mumbai and Frankfurt on Wednesday 15 November. The 6,575-kilometre route will be maintained 6-weekly, each day except Mondays, with the 299-seat 787-9 aircraft, competing directly against daily Lufthansa operations.
Flight UK27 departs Mumbai at 13:00 local time, arriving in Frankfurt at 17:30 local time. The return service, operating as flight UK28, takes off from the German airport at 20:20 local time, touching back down in India's largest city at 09:10 local time the following morning.
What they said
Vinod Kannan, Chief Executive Officer at Vistara, said: "Sensing a need for an Indian airline offering world-class experience and connecting to long-haul destinations in Europe from Mumbai; we started 5x direct flights to London Heathrow. We are now delighted to start 6x weekly service to Frankfurt as our second European destination from India's financial capital. We are confident that our customers will appreciate and prefer flying with India's finest airline when planning to travel on this route."
Vistara serves three European destinations from Mumbai
Vistara has only maintained operations to Frankfurt from Delhi up until now, alongside a daily London LHR service and 5-weekly Paris CDG flights. From Mumbai, the German city becomes its second European destination, complementing its existing 4-weekly service to London LHR.
During W23/24, Vistara has an average of 27-weekly flights departing India bound for Europe, with just over 8,000 weekly seats on offer in each direction.
The Vistara brand will cease to exist once the merger with Air India is completed. Air India itself serves Frankfurt only from Delhi with a daily service.