New Route of the Day (15 October 2023): Nile Air between Cairo and Cologne Bonn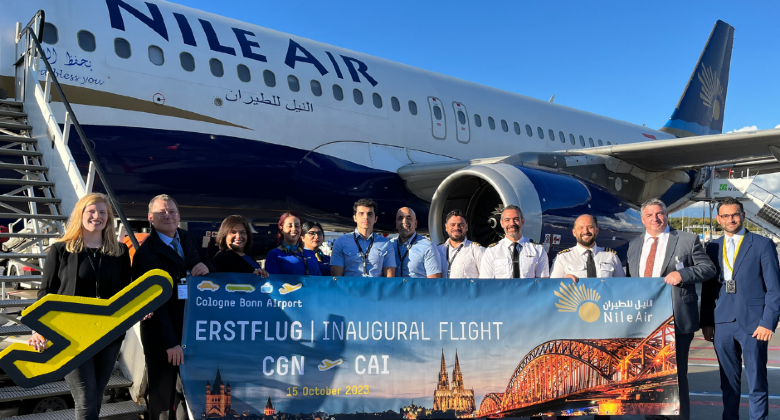 Egyptian carrier Nile Air expanded its European network on Sunday 15 October with the introduction of flights between Cairo and Cologne Bonn. The 3,060-kilometre service will be maintained 2-weekly on Tuesdays and Saturdays, with the 164-seat A320 aircraft. The airline faces no competition on the route,
Flight NP215 departs Cairo at 12:15 local time, arriving in Cologne Bonn at 16:05 local time. The return service, operating as flight NP216, takes off from the German city at 17:05 local time, touching back down in the Egyptian capital at 22:10 local time.
What they said
Mohamed Elsherif, Chief Commercial Officer at Nile Air, said: "Nile Air is working to provide all available solutions to satisfy its customers, offering a bespoke service, and ensuring a distinctive travel experience for passengers. The company is also committed to the highest standards in safety and quality. Nile Air is maintaining its continued success by opening new routes that serve our passengers and strengthen our position as an airline. This new route comes within the framework of the company's expansion plans and the continued cooperation, coordination and support between the Egyptian Ministry of Civil Aviation and privately-owned Egyptian carriers."
Nile Air is Egypt's second-largest carrier
Nile Air is the largest private airline in Egypt and second only to state-owned EGYPTAIR. It is a full-service carrier operating scheduled services, using a fleet of A320s and A321s. In addition to operations from its hub at Cairo Airport, the airline maintains a smaller base from Alexandria, in the country's north.
This coming winter season, Nile Air will operate scheduled flights to three destinations in Europe. In addition to Cologne Bonn, the carrier will serve Istanbul SAW and Stockholm ARN.
The majority of Nile Air's operations are to the Middle East, primarily Gulf countries, including Saudi Arabia, the United Arab Emirates, Iraq and Kuwait.