New Route of the Day (16 January 2023): Luxair between Antwerp and London City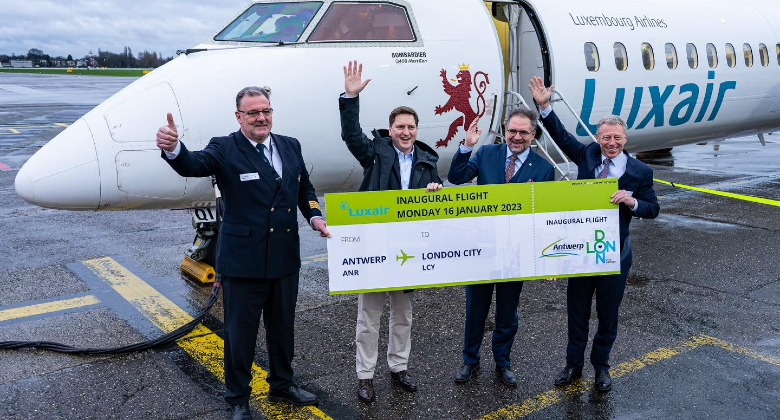 Luxair (IATA code LG) has become the latest carrier to operate the route between Antwerp in Belgium and London LCY. The airline began service on the 310-kilometre route on Monday 16 January using its 78-seat Q400s. Luxair already serves London LCY from Luxembourg with up to six daily flights. Service frequency on the new route will vary between 4- and 5-weekly with no flights on Saturdays or Sundays. Flights will depart London at 06:40 on Mondays and Tuesdays, and at 17:05 on Thursdays and Fridays according to Cirium data. Antwerp departure times are 09:15 on Mondays and Tuesdays and 19:45 on Thursdays and Fridays.
The two airports were previously connected by VLM (pre-2000 to September 2009), Air France (October 2009 to March 2014) and CityJet (April 2014 to October 2017). In September 2019 local carrier Air Antwerp began serving the route with a Fokker 50, but the service was suspended at some point in 2020.
What they said
Anne Doyere, Director of Aviation, London City Airport, said: "We have long coveted restarting the Antwerp route and I am delighted that Luxair sees its potential, not least because it will be the only direct connection between these two dynamic, culturally rich, European cities. The pandemic eroded some of London's direct connections to European cities and we believe restarting them will not only be good for passengers, but for business and the economy too. We are looking forward to working with airlines like Luxair, chambers of commerce and businesses of all sizes to help build the case for more routes to and from London's fastest, most convenient and reliable airport."