New Route of the Day (16 June 2022): Bamboo Airways between Ho Chi Minh City and Frankfurt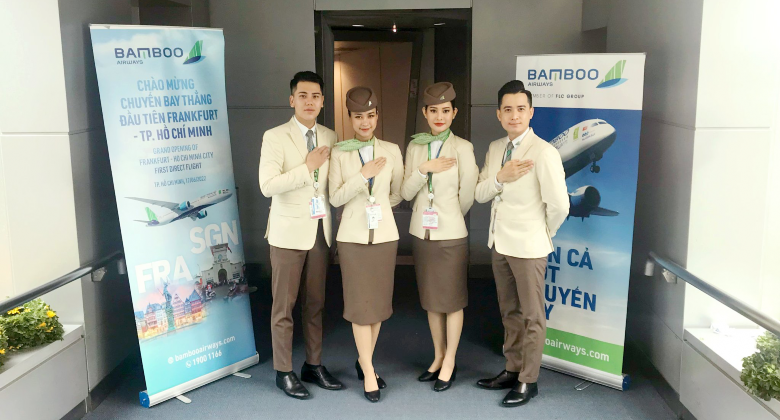 Bamboo Airways (IATA code QH) launched a new European service on Thursday 16 June when it commenced weekly service between Ho Chi Minh City and Frankfurt utilising one of its 787-9s. Flight QH 79 departed Ho Chi Minh City at 08:39 local time. After a flight time of 12 hours and 59 minutes it touched down in Frankfurt at 16:38 local time, the same day. The return flight, QH 78, left Frankfurt at 19:30 local time and arrived back in Vietnam at 11:48 local time, on Friday 17 June.
The Vietnamese carrier will face competition from Vietnam Airlines (operating 2-weekly) on the 9,670-kilometre route. This will be the carrier's third route to Europe as it already serves Frankfurt from Hanoi (launched 26 February 2022) and London LHR from Hanoi (launched 22 March 2022).
Fleet of almost 30 aircraft
Bamboo Airways currently has three active 787-9s according to planespotters.net. Each is configured with just under 300 seats. In addition to flying these aircraft on routes to Europe, it also uses them on flights from Ho Chi Minh City to Melbourne (3-weekly) and Sydney (2-weekly). Finally, the widebody aircraft are also used on two of the airline's 11 daily flights between Hanoi and Ho Chi Minh City.
Apart from the 787-9s, Bamboo Airways also has 21 A320-series aircraft and five Embraer ERJ-190s. The airline commenced operations in January 2019 and is majority owned by FLC Group. According to analysis of Cirium schedule data for July, the airline has around 14% of the domestic market, well behind VietJet (46%) and Vietnam Airlines (40%).