New Route of the Day (16 June 2023): Qatar Airways between Doha and Trabzon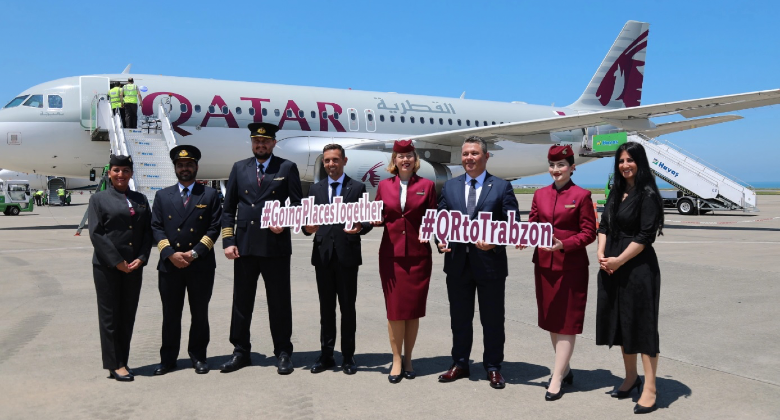 Qatar Airways launched seasonal operations between Doha and Trabzon on Friday 16 June. The 2,060-kilometre service will be maintained 3-weekly, on Tuesdays, Fridays and Saturdays, with flights to operate until 22 August using the A320 aircraft. The airline will compete directly against Pegasus Airlines' 2-weekly seasonal service between the two cities. Qatar Airways initially planned to introduce Trabzon to its network in the summer of 2020, however, flights never launched due to the pandemic.
Flight QR319 departs Doha at 08:25 local time, arriving in Trabzon at 11:50 local time. The return service, operating as flight QR320, takes off from the Turkish city at 13:20 local time, touching back down in Qatar at 16:35 local time.
What they said
Akbar al Baker, CEO of Qatar Airways Group, said: "Trabzon is an exciting and important new route for Qatar Airways, which solidifies our strong commitment to Turkey and delivers on the high demand for connectivity between Doha and Trabzon. Reaffirming our commitment to the strong partnership between Qatar and Turkey, we look forward to bringing travellers to Trabzon from the Gulf region and beyond, through an unrivalled travel experience through our home, the outstanding Hamad International Airport."
Mustafa Goksu, Ambassador of Turkey to Qatar, added: "We are proud of the ongoing demand from the State of Qatar to the Republic of Turkey. I am pleased to join the airline in its celebration today, and I know that my country will offer a world-class and unforgettable experience to all passengers coming to Trabzon, and I would like to express my sincere appreciation for being part of this memorable moment."
Qatar Airways now serves seven destinations in Turkey
Trabzon is located on the Black Sea coast of northeastern Turkey. It becomes Qatar Airways' seventh destination in the country, with the airline also operating to Adana, Ankara, Antalya, Bodrum, Istanbul IST, and Istanbul SAW. Overall, during peak season, the oneworld carrier will maintain 58 weekly flights from Doha to Turkey. The new route also strengthens Qatar Airways' global network to more than 160 destinations.
Trabzon popular with Gulf carriers
Trabzon handled just over 2.8 million passengers in 2022, with the figure still 22% below its pre-pandemic record performance. Although primarily seasonal in nature, and with most of its traffic generated by domestic passengers, Trabzon is in strong demand among the Gulf carriers. With the addition of Qatar Airways, the airport is now served by nine airlines from the region, which will grow to 10 during the month. Air Arabia, flydubai, flynas, Iraqi Airways, Jazeera Airways, Kuwait Airways, Oman Air and Salam Air all serve Trabzon from their respective home markets. flyadeal will add services to the Turkish city from Riyadh and Jeddah on 22 June and 23 June respectively.