New Route of the Day (16 June 2023): SAUDIA between Riyadh and Nice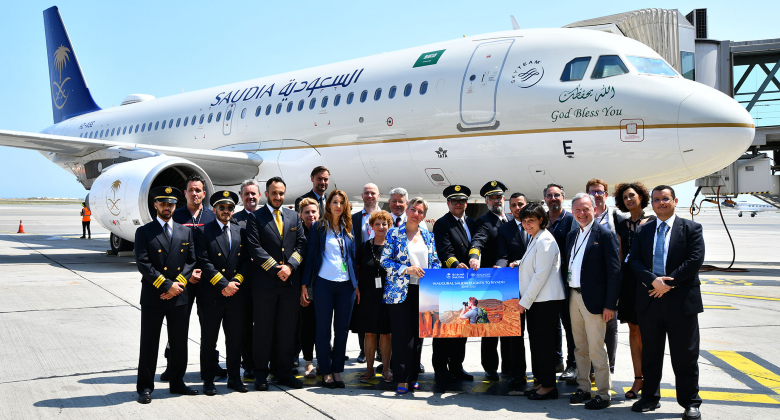 SAUDIA began 3-weekly seasonal service between Riyadh and Nice on Friday 16 June. The 4,130-kilometre route will be flown using the airline's fleet of A320s. SAUDIA faces no competition between the two cities. The SkyTeam member last served the airport in 2009.
Flight SV129 will depart Riyadh at 09:25 local time on Mondays, Wednesdays and Fridays, arriving in France at 14:40 local time. The return service, SV128, leaves Nice at 16:00 and arrives back in Saudi Arabia at 22:30 local time.
What they said
Mohammad Baakdah, Vice President of Ground Operations at SAUDIA, said: "This new route emphasises the significance of strengthening bilateral relations between the two countries and connecting the existing flights to Charles de Gaulle Airport in Paris. This was part of the plan announced at the beginning of this year to expand the airline's existing flight network. As part of the plan, SAUDIA aims to increase the number of destinations and expand its fleet to achieve operational goals. Additionally, SAUDIA has been focusing on developing its digital service ecosystem to enhance the guest experience."
Nice adds 10 new airlines
Gateway to the world-renowned Côte d'Azur, Nice was France's third busiest airport last year. This summer, capacity is 2.9% above S19, helped by having 10 airlines that did not serve the airport in S19. Of those, three are starting this year. In addition to SAUDIA, they include Air Arabia Maroc from Fez launching 24 June, as well as Arkia from Tel Aviv, commencing 3 July. Nice's S23 network comprises of 113 destinations. There are 94 destinations across Europe (-6 versus S19), eight in Africa (+1), seven in the Middle East (+2), and four in North America (+1%). However, Nice no longer has an Asia link (excluding the Middle East). Air China from Beijing PEK was the most recent; it operated between August and October 2019. Nearly a third of Nice's 6.39 million one-way S23 capacity is domestic.