New Route of the Day (16 May 2022): AnadoluJet between Istanbul SAW and Milan BGY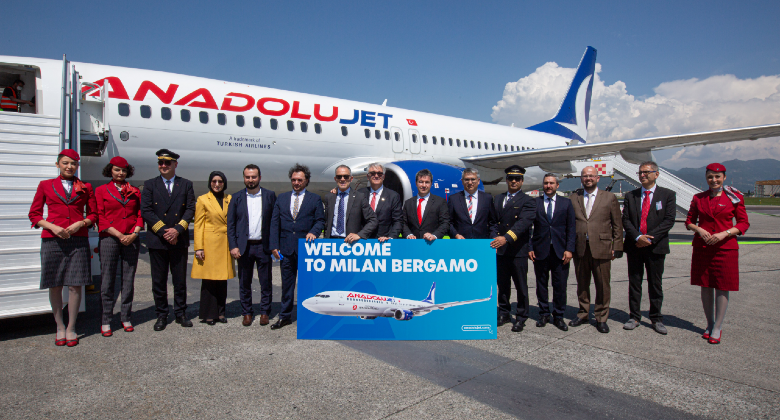 AnadoluJet, which is part of Turkish Airlines and uses the airline's IATA code of TK, on 16 May transferred its Istanbul SAW to Milan service from Milan MXP to Milan BGY. The 1,670-kilometre route to Bergamo is already served by Pegasus Airlines, which operates 12-weekly during the remainder of the summer season (until the end of October). Turkish Airlines itself operates 3-daily between Istanbul IST and Milan MXP, with frequency set to increase to 4-daily from 13 June according to the latest Cirium data.
Focus on international markets this summer
With the current financial situation in Turkey (high inflation and the value of the local currency falling), Turkish Airlines is focussing on international markets and attracting tourists to visit the country. As a result, the airline's capacity this summer (Q3) from Istanbul SAW shows some striking differences when looked at geographically. While domestic flights are down almost 30% compared with 2019 Q3, international flights are up almost 60%. The leading international country markets are:
Germany: 868 flights in Q3, up 90%
Saudi Arabia: 315, up 43%
UK: 237, up 160%
France: 198, up 115%
Iraq: 184, up 35%
Israel: 184, up 100%
Kuwait: 184, up 4%
Netherlands: 184, up 100%
Switzerland: 158 (new)
Iran: 118, up 28%
Apart from Switzerland (Basel and Zurich), new country markets for Turkish Airlines from Istanbul SAW in 2022 Q3 compared with 2019 Q3 are Bosnia & Herzegovina (Sarajevo), Denmark (Copenhagen), Hungary (Budapest) and Kosovo (Pristina).