New Route of the Day (17 August 2022): Norse Atlantic Airways between Berlin and New York JFK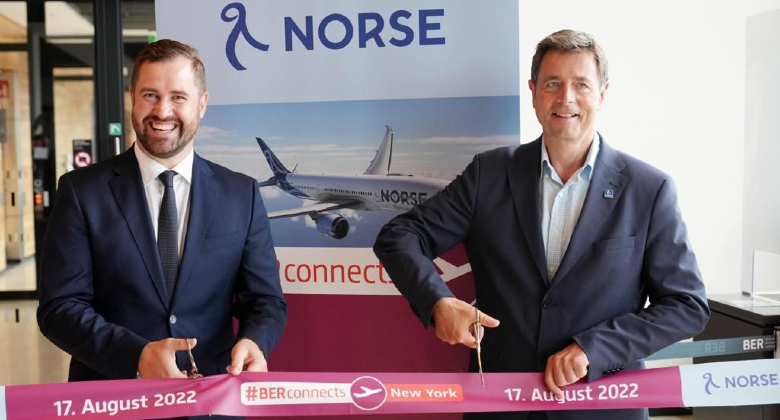 Norse Atlantic Airways began long-haul service from Berlin on Wednesday 17 August. Having positioned its 787-9 (registration LN-FNI) in from Oslo the previous afternoon, Norse Atlantic's inaugural flight from the German capital to New York JFK departed at 20:01 local time according to flightradar24.com. Eight hours and 10 minutes later the flight touched down in the US at 22:11 local time. However, rather than returning to Berlin, the aircraft operated a service from JFK to Oslo. The first New York to Berlin service was operated by a 787-9 (registration LN-FND) on Thursday 18 August. This aircraft had flown in from Oslo to the US on 17 August.
The 6,410-kilometre route faces no direct competition. However, United operates daily flights to Berlin from its New York EWR base. These resumed at the end of March 2022 having been suspended since the start of the pandemic. Delta previously connected New York JFK with Berlin with daily flights during the summer of 2019. airberlin also operated the route year-round from May 2011 to September 2017.
What they said
Thomas Hoff Andersson, Chief Operations Officer, Flughafen Berlin Brandenburg GmbH, said: "Welcome NORSE! BER is pleased to welcome a new, strong partner. The new long-haul connection to the USA's east coast boosts BER's connectivity and, therefore, attractiveness. Fast, direct and reliable scheduled flights are an important basis for the traditionally close and diverse connections between the capital region and the USA. Therefore, the new offers are good news for the airport location and the region as a whole."
Bjørn Tore Larsen, Founder, Managing Director and majority shareholder of Norse Atlantic Airways, added: "We are very excited to announce the new route from Berlin to New York. For far too long the vibrant and culturally diverse city of Berlin has been subjected to poor direct transatlantic connectivity. Our extremely competitive fares and direct flights will provide a direct and cost-effective option, saving both money and time, for local and international businesses when choosing to travel to and from the US or taking advantage of our cargo services."
Second US route to LAX started two days later
Having launched New York service on Wednesday 17 August, Norse Atlantic added a second US route from Berlin just two days later. On Friday 19 August it began 3-weekly service on the 9,370-kilometre route to Los Angeles, with flights departing Berlin on Wednesdays, Fridays and Sundays. Again, no other airline currently operates this route. airberlin served the route (from Berlin TXL) 3-weekly in the summers of 2012, 2013 and 2017.