New Route of the Day (17 January 2022): TwinJet between Marseille and Toulouse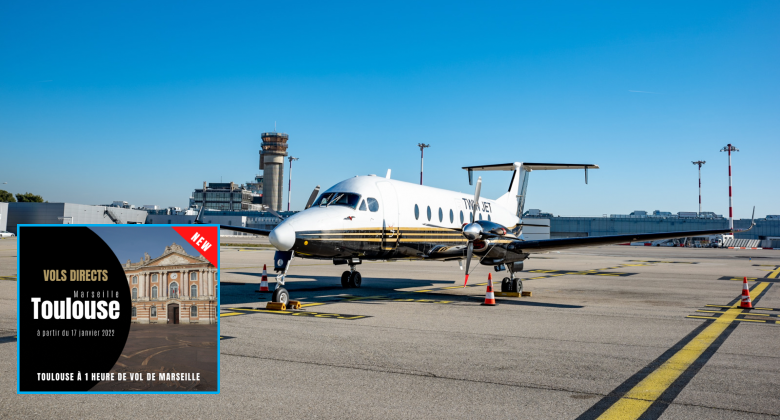 Twin Jet (IATA code T7) on 17 January launched service between the two southern French cities of Marseille and Toulouse. The 310-kilometre air route (which is a 400-kilometre, four hour surface journey by car) will be operated 5-weekly by the airline using its 19-seat Beechcraft 1900Ds. There will be a single daily flight on Mondays, Tuesdays and Thursdays and two daily flights on Wednesdays. The airline previously operated the route between October 2011 and May 2012 according to Cirium data.
In recent years, Air France has been serving the market with its regional subsidiary HOP! Last December it was offering 4-weekly flights using HOP!'s CRJ 1000s operating daily on Tuesdays and Thursdays and 2-daily on Wednesdays. The last flight was on 16 December. According to Cirium data, Air France is set to resume service on the route on 7 February with 4-weekly flights using a mix of CRJ 1000s and E170s. The service will now operate daily on Mondays and Wednesdays and twice on Tuesdays. There will then be nine weekly flights between the two airports; two on Mondays, three on Tuesdays, three on Wednesdays, one on Thursdays and none on Fridays, Saturdays and Sundays. It is worth noting that Airbus operates major facilities in both cities.
Ryanair operated the route in W19/20
Between 2 October 2019 and 31 January 2020, Ryanair offered non-stop flights between the two airports. Service was daily in October and November but then reduced to 3-weekly in December and January. It has not operated the route since.
Twin Jet's network
Founded in 2001, Twin Jet operates a fleet of 13 Beechcraft 1900Ds (of which eight are currently active) on routes involving airports in France, Germany (Stuttgart), Italy (Milan MXP) and Switzerland (Zurich). The airline's website shows a network of 11 routes with Marseille (four), Lyon (three) and Metz-Nancy (three) having the most non-stop routes. The airline is a partner of the Flying Blue loyalty programme.