New Route of the Day (17 July 2021): Ryanair between Vienna and Nis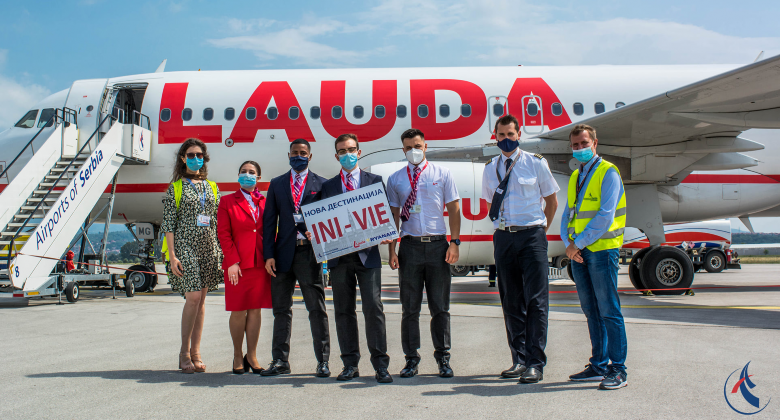 Ryanair on 17 July launched service between its Vienna base and Nis in Serbia, operating 2-weekly (on Tuesdays and Saturdays). The 670-kilometre route is also operated 2-weekly by Wizz Air. This is the latest in now almost 150 routes where the two carriers compete head-to-head. The inaugural service (flight number FR 674 operated by Lauda Europe Airbus A320 registration 9H-LMG) departed the Austrian capital at 13:07 local time and arrived in Nis just over an hour later at 14:15 local time, where it was welcomed with a traditional water arch salute.
Ryanair now serves Nis from four airports
Niš Constantine The Great Airport is Serbia's second busiest (after Belgrade) and handled 422,000 passengers in 2019, up 20% on its 2018 figure. Ryanair first began serving Nis in September 2016 (from Berlin). This route from Vienna means that Ryanair is now serving Nis from four airports. The others are Corfu, Malta and Milan BGY. A fifth destination, Stockholm ARN, will become available at the end of October. In the past, Ryanair has also served Nis from Berlin SXF, Bratislava, Stockholm NYO and Weeze.
Wizz Air started serving Nis in June 2015 when it began flying to Malmö in Sweden. A month later flights to Basel/Mulhouse were added. August 2016, saw additional services introduced to Dortmund and Memmingen in Germany, and Eindhoven in the Netherlands. Most recently, in November 2018, flights from Vienna were added. Only the Eindhoven route is no longer served.