New Route of the Day (17 June 2022): LOT Polish Airlines between Rzeszów and Olsztyn-Mazury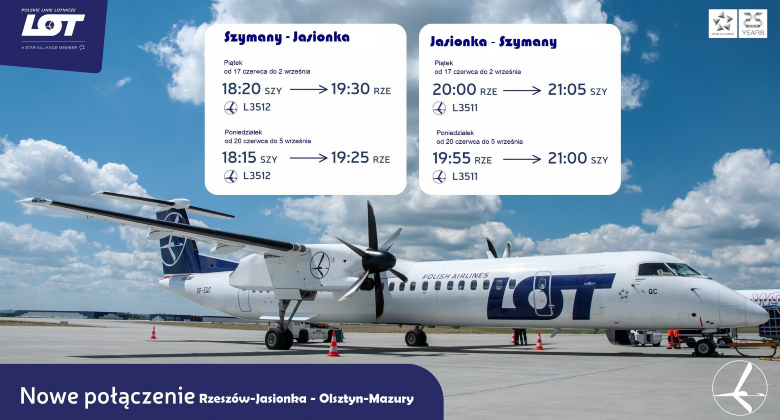 LOT Polish Airlines introduced a new domestic route on Friday 17 June. The Star Alliance member now connects Rzeszów and Olsztyn-Mazury 2-weekly using its Q400s. Flights will operate every Monday and Friday until 5 September. The 380-kilometre route is not served by any other carrier.
Rzeszów has Ryanair and Wizz Air flights
Rzeszów-Jasionka Airport lies in Poland's south-east, not too far from the border with Ukraine. In 2019 the airport handled 772,000 passengers, making it the country's eighth busiest airport. This summer the airport has scheduled services from LOT, Ryanair and Wizz Air. The Polish flag-carrier has up to 5-daily flights on the 240-kilometre link to Warsaw WAW and 2-weekly service to Gdansk. It also has a weekly service to New York EWR, making its Europe's smallest airport (by passengers) with a scheduled US service.
Ryanair offers six routes in total this summer. Five of these are to destinations in the UK (Bristol, East Midlands, London LTN, London STN and Manchester) with Dublin the remaining route. A service to Athens operated in August 2019, has not yet been resumed. Wizz Air has flights to Bulgaria (Bourgas), Netherlands (Eindhoven), Norway (Oslo TRF) and the UK (London LTN). It only began serving Rzeszów in September 2021.
Olsztyn-Mazury traffic reached 150,000 in 2019
Located in the north-east of Poland, Olsztyn-Mazury Airport underwent a major renovation during the last decade. In 2019 the airport welcomed just over 154,000 passengers. This summer, the airport is offering scheduled services with LOT, Ryanair and Wizz Air. Apart from the new Rzeszów route, LOT also flies to Krakow 3-weekly with its Q400s. Ryanair also operates to Krakow (2-weekly), as well as Wroclaw and London STN (also both 2-weekly). Wizz Air offers 2-weekly service to both Dortmund in Germany and London LTN in the UK.