New Route of the Day (18 July 2021): Etihad Airways between Abu Dhabi and Vienna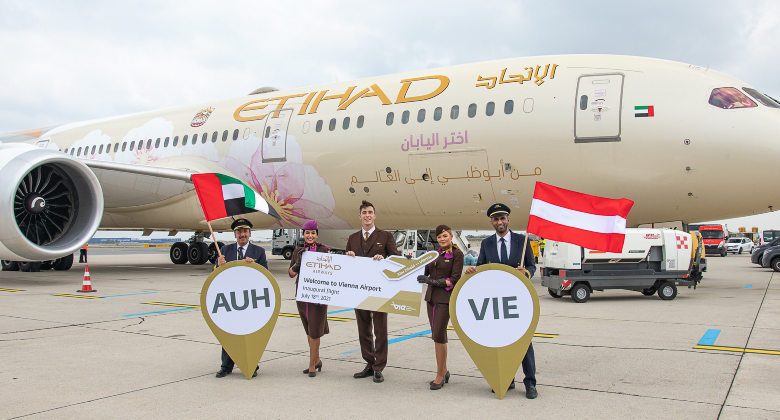 Etihad Airways on 18 July launched service between its Abu Dhabi base in the UAE and Vienna in Austria, operating 2-weekly (on Thursdays and Sundays). The 4,245-kilometre route faces no direct competition. However, Emirates serves Vienna with daily flights from Dubai, while Qatar Airways serves the Austrian capital 5-weekly from Doha. The inaugural service (flight number EY 147 operated by a Boeing 787-9 registration A6-BLK) departed Abu Dhabi at 08:13 local time and touched down in Vienna at 11:26 local time, after a flight of five hours and 13 minutes. The aircraft was then welcomed with a traditional water arch salute. From Vienna the aircraft headed to Milan MXP to pick up additional passengers before returning to Abu Dhabi.
Serving 20 destinations in Europe
Prior to the pandemic, Etihad was operating non-stop to over 70 destinations across the globe, including 20 in Europe. This August, according to Cirium Data and Analytics schedule information, Etihad is still serving 20 destinations non-stop in Europe. However, non-stop services to Belgrade, Düsseldorf, Manchester and Minsk have been replaced by the new Vienna service as well as recently launched, seasonal service (until mid-September) to Malaga, Mykonos and Santorini, all of which will be served 2-weekly. The Malaga return service operates via Madrid, while the two Greek routes operate via Athens on the return leg.