New Route of the Day (18 July 2023): China Airlines between Taipei and Prague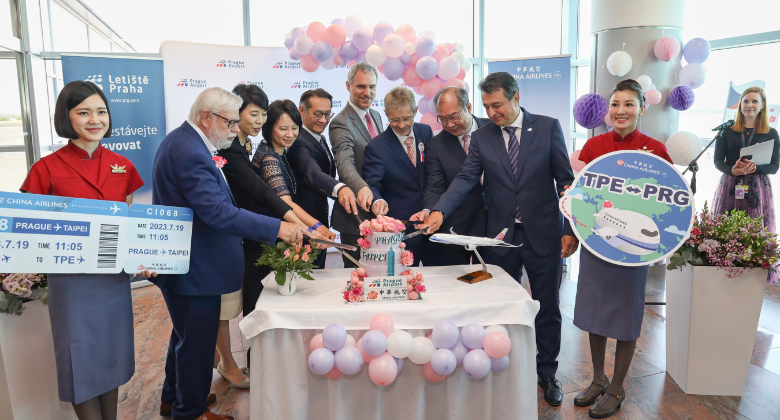 China Airlines inaugurated flights between its Taipei hub and Prague on Tuesday 18 July, with the 2-weekly service to be maintained on Tuesdays and Saturdays with the 306-seat A350-900 aircraft. The carrier faces no competition on the route. It becomes Prague Airport's longest non-stop service.
Flight CI67 departs Taipei at 23:20 local time, arriving in Prague at 07:10 local time the following morning. The return service, operating as flight CI68, takes off from the Czech capital at 11:05 local time on Wednesdays and Sundays, touching back down in Taiwan's largest city at 05:35 local time the following morning.
What they said
Kao Shing-Hwang, President of China Airlines, said: "Direct air connections, their frequency and quality are of vital importance for tourism. We believe that thanks to the Prague - Taipei flights, the Czech Republic will again be more discovered by tourists not only from Taiwan, but from all over Asia, who represent a very interesting tourist segment."
Jirí Pos, Chairman of the Board of Directors of Prague Airport, added: "We have been striving for a direct route to Taiwan for several years. I am therefore glad that our negotiations have yielded results and we can offer this direct service to Czech travellers. Moreover, this route will provide passengers from Prague with the possibility of convenient transfers to a number of China Airlines destinations in Asia and the Pacific. The non-stop air connection with Prague is also great news for the residents of Taiwan. In 2019, i.e., before the Covid-19 pandemic, almost a quarter of a million of them visited the Czech Republic."
Prague becomes China Airlines' sixth European destination
China Airlines has been rebuilding its European network since the end of the pandemic and now serves six destinations on the continent, which is one more than in 2019. The SkyTeam member provides the most flights and capacity to Frankfurt, followed by London LHR, Vienna, Amsterdam and Rome FCO. Overall, during the peak summer month of August, the carrier will have 113 departing flights from Taipei to Europe, with 36,190 seats on sale each way. In August 2019, the airline served the same destinations, with exception to the recently launched Prague, although the carrier operated to London LGW rather than Heathrow. Back then it maintained 106 Europe-bound flights and had 34,984 seats on sale.
Prague's Far East Asia network behind pre-pandemic levels
Taipei becomes Asia's second destination in Far East Asia alongside Seoul ICN, which is operated by Korean Air. This is significantly down on 2019 when the Czech capital boasted non-stop flights to several cities in China, including Chengdu, Beijing, Shanghai PVG and Xi'an, operated by the likes of China Eastern Airlines, Hainan Airlines and Sichuan Airlines. International capacity from China has been slow to rebound following the pandemic, however, relations between mainland China and the Czech Republic have nosedived in recent years. This is in part due to the Czech Republic becoming one of Taiwan's closest European partners.
Within Asia itself, Prague Airport currently boasts services to Amman, Dubai, Doha, Muscat and Salalah alongside Seoul ICN and Taipei.