New Route of the Day (18 May 2023): Croatia Airlines between Dubrovnik and Prague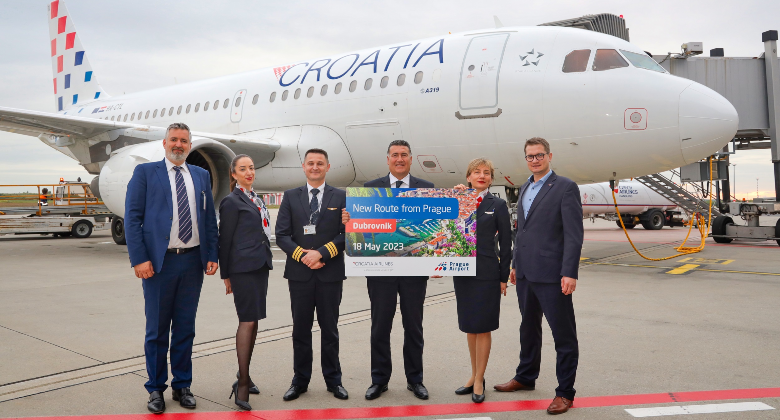 Croatia Airlines added a new seasonal service between Dubrovnik and Prague on Thursday 18 May, complementing its summer flights from Split to the Czech capital, which were introduced last year. The 890-kilometre route will be maintained weekly with the A319 aircraft. The new service will run until 12 October and compete against daily Smartwings flights.
Flight OU4326 departs Dubrovnik at 18:00 local time, arriving in Prague at 19:40. The return service, operating as OU4327, takes off from the Czech capital at 20:20, arriving back in Dubrovnik at 21:50.
What they said
Mato Radić, Sales Market Manager for Central Europe at Croatia Airlines, said: "We believe that many citizens of the Czech Republic will take advantage of the fastest transportation connection to the Croatian part of the Mediterranean, and our flights will be an additional incentive for them to discover the natural, historical, and cultural beauties of Dubrovnik and Split, as well as our Dalmatian region."
Jaroslav Filip, Aviation Business Director at Prague Airport, added: "I am pleased that this year, thanks to Croatia Airlines, we will offer passengers more flights from Prague Airport to the Adriatic Sea. Croatia has long been one of the most popular destinations for Czech tourists, so expanding the range of flights for the summer holiday season is a logical choice."
Croatia Airlines shifts focus to coast
Croatia Airlines' main hub is in the country's capital of Zagreb, however, since 2020, it has been increasingly shifting focus to its coastal airports over the summer months. The carrier used to maintain summer operations between Zagreb and Prague until the pandemic but has chosen not to restore them, shifting them to Split and now Dubrovnik instead. Similarly, it has moved several other seasonal routes out of Zagreb to the country's coastal airports. Although the airline argues to have done so due to the leisure sector being quicker to recover, the development is also believed to be in relation to ULCC Ryanair opening a base in Zagreb in 2021, where it now accounts for 32% of all traffic.
Croatia Airlines is operating over 17,000 flights with 1.8 million seats on sale during S23, which is still down on pre-pandemic levels. So far this summer season the carrier has restored operations between Zagreb and Mostar in Bosnia and Herzegovina after three years and launched new seasonal operations from Split to Skopje and Oslo. Following the new Dubrovnik to Prague route, the airline will complete its S23 expansion with a new seasonal service from the island of Brac to Munich.