New Route of the Day (18 May 2023): FlyOne Armenia between Yerevan and Dusseldorf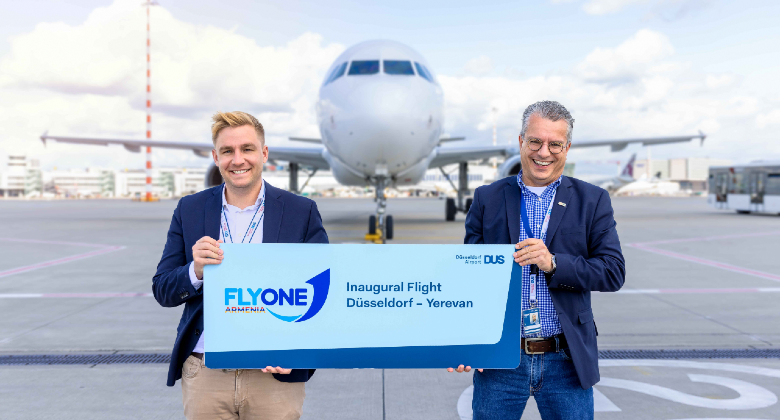 FlyOne Armenia (IATA code 3F) introduced flights between Yerevan and Dusseldorf on Thursday 18 May, becoming the German airport's first link to Armenia. The 3,140-kilometre route will be maintained 2-weekly on Thursdays and Sundays with a 180-seat A320 aircraft. Since airlines registered in Armenia are on the European Commission's "blacklist", prohibiting them from entering EU airspace, FlyOne Armenia is using wet-leased equipment on the route. There is currently no competition between the two cities, although Eurowings will introduce its own weekly service on May 29.
Flight 3F285 departs Yerevan at 13:50 local time, arriving in Dusseldorf at 16:30 local time. The return service, operating as flight 3F286, leaves the German city at 17:30 local time, touching down back in the Armenian capital at 23:20 local time.
FlyOne accelerates growth of its Armenian subsidiary
FlyOne is a Moldovan LCC and in December 2021 opened its Yerevan-based Armenian unit. Since the start of the war in Ukraine in 2022, the carrier has accelerated growth in Armenia due to the impact the conflict has had on the Moldovan market. Last year, Moldova's airspace was closed for a month due to the war, resulting in the suspension of all commercial flights in Moldova. FlyOne's Moldovan and Armenian AOCs cooperate closely.
Dusseldorf becomes FlyOne Armenia's first destination in Germany. In Europe, the carrier has an extensive network to Russia and maintains operations to Cyprus, France, Georgia, Italy, Moldova and Turkey. Elsewhere, it serves Egypt, Iran, Israel, Lebanon and the United Arab Emirates.
Yerevan Airport fully recovered from the coronavirus pandemic last year. In 2022 it handled over 3.6 million passengers, representing an increase of over 16% on 2019. As Armenia has not joined EU/US sanctions on Russia, the market continues to be driven by traffic to and from Russia.