New Route of the Day (18 October 2023): FlyOne between Chisinau and Dubai DWC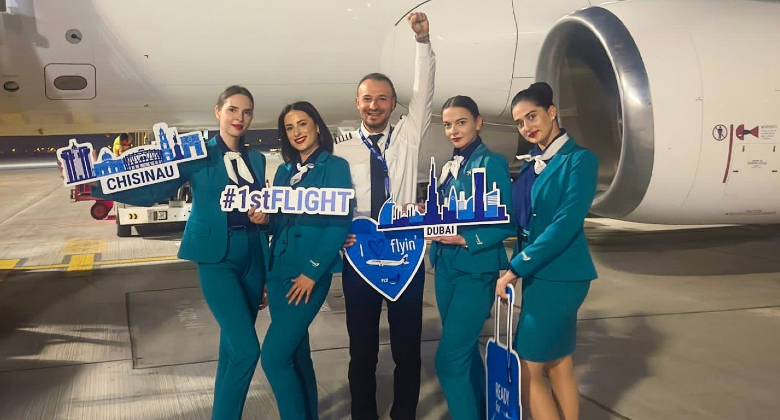 Moldova's FlyOne introduced flights between Chisinau and Dubai DWC on Wednesday 18 October. The 3,370-kilometre route will be maintained 2-weekly on Tuesdays and Fridays with the A320 aircraft. FlyOne faces no direct competition on the route, with no airline serving Dubai DXB either.
Flight 5F153 departs Chisinau at 10:00 local time, arriving at Dubai DWC at 15:50 local time. The return service, operating as 5F154, takes off from the Emirati city at 16:50 local time, touching back down in the Moldovan capital at 21:20 local time.
What they said
Mircea Maleca, CEO at FlyOne, said: "Our passengers have repeatedly requested that we launch flights to Dubai, and we are delighted that we have been able to do so. With this new service, we offer travellers the opportunity to discover other cultures and traditions. Also, Dubai is a city with great opportunities in the field of business."
Moldova is one Europe's slowest recovering markets
The Moldovan aviation sector has been beset by a number of issues over the past few years. As a result, it is one of Europe's slowest recovering markets when compared to 2019, behind only sanction-hit Belarus, excluding Ukraine. During Q4, Moldova's seat capacity stands at just 55.7% to that of 2019.
Moldova was initially impacted by the war in neighbouring Ukraine, which resulted in the temporary one-month closure of its own airspace. Quickly after, Wizz Air, which was Moldova's largest carrier, closed its base in Chisinau. Citing safety concerns, it discontinued all flights to the country. Earlier this year, Moldova's national carrier, Air Moldova, was forced discontinue all flights after the Moldovan Civil Aviation Authority limited the airline's ticket sales due to amassed debt.
FlyOne is Moldova's biggest airline
Following Wizz Air's exit from the Moldovan market and Air Moldova's collapse, FlyOne became the biggest carrier at Chisinau Airport. During Q4 it has 251,307 seats on the market, or a 50% share.
In addition to the new Dubai DWC service, FlyOne will launch operations to Prague on 1 April, 2024 and to Thessaloniki on 3 April of next year.