New Route of the Day (19 August 2022): Norwegian between Trondheim and Manchester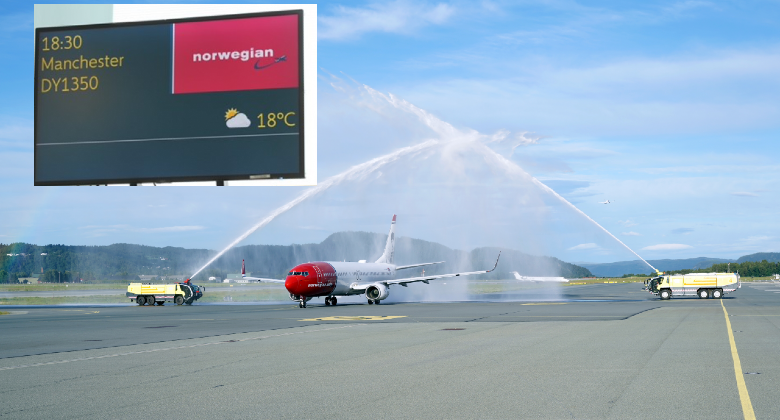 Norwegian on Friday 19 August began a new, 2-weekly service between Trondheim and Manchester. The 1,360-kilometre route will operate on Mondays and Fridays, with flight DY1350 scheduled to depart the Norwegian airport at 18:30 on both days. The service will operate until 14 November and then resume on 26 December. This unusual schedule gives a clue to the target market of this new route, Norwegian fans of England's Premier League football. The new season has recently started, and a Manchester service would cater to fans of Everton, Liverpool, Manchester City and Manchester United. However, the season takes a break from mid-November until just before Christmas when the FIFA World Cup takes place in Qatar.
Norwegian serving nine international destinations from Trondheim
As a result of this new route, Norwegian will be offering eight international routes from Trondheim in September according to Cirium data. The other routes are Alicante, Berlin, Copenhagen, Krakow, London LGW, Malaga and Riga. For winter, the Malaga service is suspended and replaced by a 2-weekly service to Gran Canaria.
Although Norwegian has the biggest international network from Trondheim, it is not the only carrier offering international routes from the airport. Other services in August include:
airBaltic: to Riga (2-weekly, launched on 3 July 2021)
Finnair: to Helsinki (2-weekly)
Flyr: to Alicante (weekly, launched on 19 February 2022)
KLM: to Amsterdam (19-weekly)
SAS: to Alicante (2-weekly), Copenhagen (13-weekly) and Stockholm ARN (7-weekly)
Wizz Air: to Gdansk (3-weekly)
PLAY has ended Trondheim service
Another carrier to have operated international flights to Trondheim this summer was Icelandic newcomer PLAY. The carrier began 2-weekly service from Reykjavik KEF on 31 May. However, after just 19 return flights, the route was suspended, with the last flight on 6 August. The destination is no longer shown on the airline's website booking tool.