New Route of the Day (19 June 2023): Air Serbia between Belgrade and Ohrid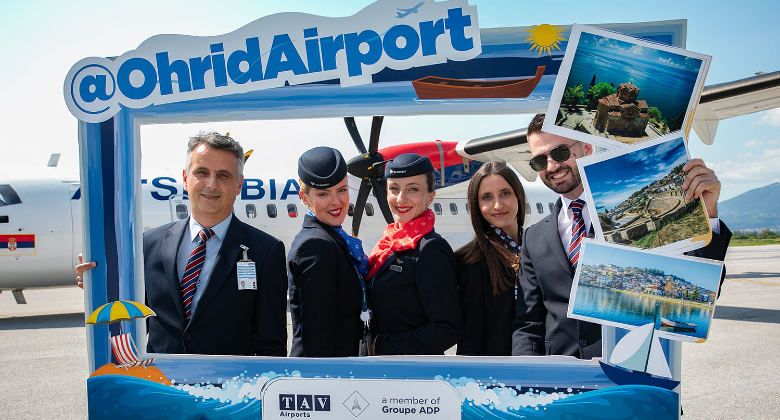 Air Serbia introduced flights between its hub in Belgrade and Ohrid in North Macedonia on Monday 19 June, making it the 22nd new route launched by the airline so far this year. The 405-kilometre service will be maintained 4-weekly on Mondays, Wednesdays, Fridays and Saturdays with the ATR72-600 turboprop aircraft. The carrier previously served the lakeside city in 2017. It faces no competition on the route.
What they said
Nejat Kurt, General Manager of airport operator TAV Macedonia, said: "We at TAV are delighted to welcome Air Serbia back to Ohrid St. Paul the Apostle Airport and the resumption of flights on the Belgrade - Ohrid route, following a break that started in 2017. This resumption not only reconnects Ohrid, the Pearl of the Balkans, with the capital of Serbia, Belgrade, but it also signifies an important milestone in our recovery efforts following the challenging times faced by the global aviation industry. Additionally, the resumption of flights on the Belgrade - Ohrid route will not only benefit leisure travellers but also serve as a catalyst for economic growth. It will promote tourism, strengthen business ties, and facilitate cultural exchanges between Serbia and North Macedonia. We are confident that the resumption of this route will provide immense opportunities for collaboration, trade, and the exchange of ideas. Ohrid Airport's team is committed to providing a safe and efficient airport experience for all passengers while working closely with Air Serbia to ensure their journey is seamless and enjoyable".
Belgrade with over 100 routes this summer
Belgrade Airport is on track to register its busiest year on record, handling just over 2.5 million passengers during the January - May period, an increase of over 26% on the pre-pandemic 2019. Its growth has been fuelled by Air Serbia, which added over 20 new routes this year but also the arrival of new foreign carriers. Compared to 2019, the likes of airBaltic, Air Montenegro, AnadoluJet, Hainan Airlines, KLM, Luxair and Jazeera Airways have launched operations to the city. As a result, Belgrade now boasts over 100 routes.
Apart from Air Serbia, Wizz Air also has a base in Belgrade and will station its fourth A321 aircraft in the city this August, enabling it to launch five new routes for a total of 22. The airport, managed by VINCI, is estimated to handle over seven million passengers this year.