New Route of the Day (19 September 2021): Air Dolomiti between Frankfurt and Kalmar/Ronneby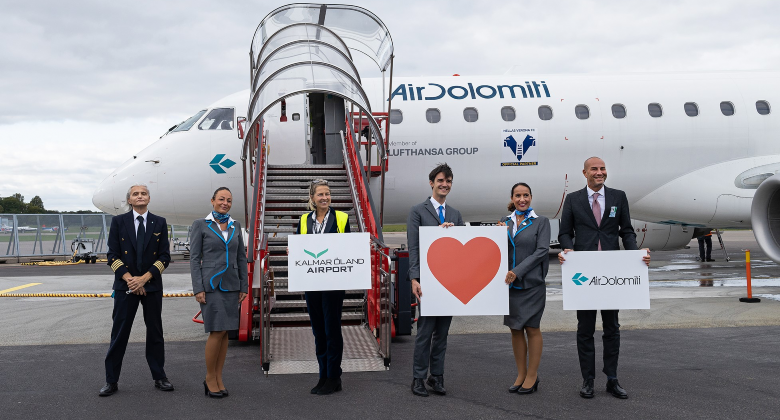 Air Dolomiti, a member of the Lufthansa Group, began flying from Frankfurt to two southern Swedish airports (Kalmar and Ronneby) on Sunday 19 September. The inaugural service (flight number EN 8892 operated by an Embraer E195LR, registration I-ADJX) departed Frankfurt at 12:14 and touched down in Ronneby one hour and 13 minutes later at 13:27. It departed Ronneby at 14:22 and landed at Kalmar just 19 minutes later at 14:41. At 15:49 it took off from Kalmar and headed back to Frankfurt, arriving at the German airport one hour and 22 minutes later at 17:11. All three sectors operate using the same flight number. The service is set to operate 5-weekly.
Kalmar and Ronneby are similar size airports
Both Kalmar and Ronneby have previously only had year-round scheduled service to airports in Stockholm (Arlanda and Bromma) provided by SAS and BRA Braathens Regional respectively. In 2019, Kalmar handled 232,000 passengers, while Ronneby welcomed 205,000. Last year, both reported just over 50,000 passengers passing through the airport.
Air Dolomiti's main role is to connect Italian airports with Lufthansa's two main hubs in Frankfurt and Munich. So far this summer it has begun Milan LIN to Munich service (replacing its Milan MXP to Munich route), Forli to Munich, Cuneo to Munich, Pisa to Frankfurt (replacing Pisa to Munich) as well as Munich to Aarhus in Denmark. The airline is currently celebrating its 30th birthday and recently announced Steffen Harbarth as its new CEO. According to planespotters.net its fleet currently comprises 15 116-seat Embraer E195s.