New Route of the Day 2 (15 December 2021): Eastern Airways between Newquay and London LGW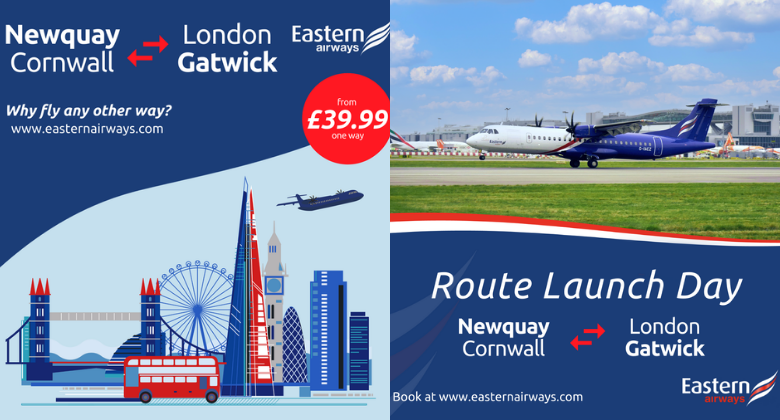 Eastern Airways
chose Wednesday 15 December as the launch date for its new, daily service between
Newquay
in Cornwall and
London
LGW. The 350-kilometre sector will be flown using the airline's ATR 72-600s, with frequency expected to increase to 3-daily by next summer. The year-round service is being supported financially and qualifies as a PSO (Public Service Obligation) route. The route was operated this summer, without financial support, by easyJet, who flew 3-weekly between 8 June and 28 September. easyJet is set to return next summer, again operating 3-weekly (Tuesdays, Thursdays and Saturdays), but this time between 28 June and 3 September, according to the airline's on-line booking tool.
Flybe previously connected Newquay with London, BA does in summer
The Gatwick route was last served year-round by Flybe with up to 3-daily flights. However, that service ceased at the end of March 2019 when flights were transferred to London LHR, which provided much better global connections. Sadly, that service ended in March 2020 when Flybe suspended all operations. Flybe had also connected Newquay with London SEN between April 2019 and December 2019. Picking up the baton after the collapse of Flybe, British Airways operated regular flights between Heathrow and Newquay from 24 July 2020 until the end of the summer season, and also operated regular flights in July and August this year using its A319s. The airline looks set to repeat this service next summer, meaning that three airlines will then be connecting Newquay with London during the peak summer months.
Not many turboprops at Gatwick
With this new route, Eastern Airways has become the only carrier to use turboprops on a daily service at Gatwick. Aurigny's weekly service to Guernsey is also operated by an ATR 72, while skyalps will be using a Q400 on its 2-weekly service from Bolzano when the route (hopefully) starts on 25 December. According to Cirium Data and Analytics, Eastern Airways will be operating eight UK domestic routes and one route to Ireland in January 2022. They are (ranked by weekly frequency):
12-weekly: Newquay-London LGW
7-weekly: Aberdeen-Humberside
6-weekly: Southampton-Belfast BHD, Southampton-Leeds Bradford, Southampton-Manchester and Aberdeen-Newcastle
4-weekly: Southampton-Dublin and Belfast BHD-Cardiff
1-weekly: Humberside-Newcastle
According to planespotters.net, the airline's fleet currently comprises eight 29-seat BAe J41s, two 72-seat ATR 72-600s and a single 106-seat Embraer E190 (registration G-CLSN). The latter has recently been used for ad-hoc charter services, but is now based at Southampton operating some of the Belfast BHD and Dublin flights, after one of the ATR 72s was moved to Newquay to operate the Gatwick service. CAA data for September reveals that Eastern Airways' passenger load factor on scheduled services that month was just 44.5%. This compares with 53.6% for Loganair, 58.3% for Aurigny and 64.3% for Blue Islands.