New Route of the Day 2 (27 March 2023): Wizz Air between Venice VCE and Iasi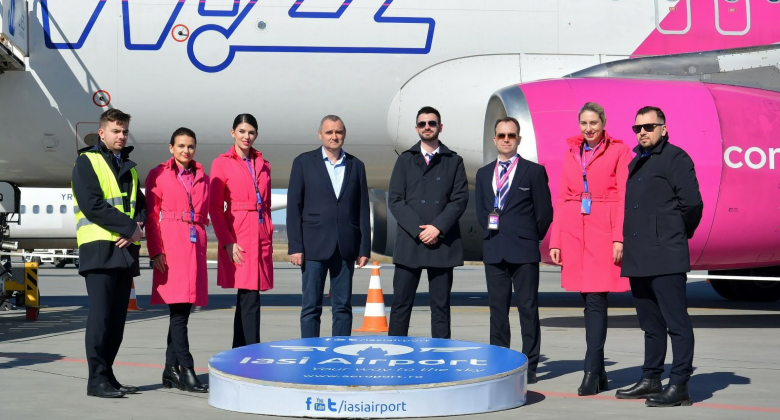 Wizz Air launched operations between Venice VCE and Iasi, in the north-east of Romania, close to the border with Moldova, on Monday 27 March. The 1,190-kilometre route is maintained 2-weekly on Mondays and Fridays, replacing the previously operational service from Venice TSF to the Romanian city. Wizz Air faces no competition on the route, which it maintains with the A320 aircraft.
The Venice VCE to Iasi service is one of three new routes being launched by the ULCC to the Romanian city this summer. On 27 March, it also commenced operations from Berlin, while on 4 April, the airline will inaugurate flights from Iasi to Istanbul IST.
What they said
Alexandra Avadanei, Revenue Officer at Wizz Air, said: "We remain committed to the Romanian market, including to the regional airports, and we are excited to offer customers the best travel options from Iasi at ultra-low-cost fares. These network additions mark an important milestone for the Romanian network and confirm our growth strategy."
Costel Alexe, President of the Iasi County Council, said: "We are strengthening the partnership with Wizz Air, and today we have one of the company's operational bases in Iasi and direct connections with European metropolises and capitals. The newly inaugurated routes open numerous development perspectives for both the company and the airport, as well as for passengers. Iasi Airport is an aerial highway for Moldova, it is our communication gateway with Europe, and the diversification of partnerships with air operators helps us to offer Iasi people and Moldovans more travel opportunities, which will also mean a boost for the business environment. We will continue to invest in the development of the airport and strengthen its position as a pillar of regional development, and in this process, we will prioritise the relationship with air operators, in the interest of our community."
Wizz Air shifts Moldova base operations to Iasi
Wizz Air suspended operations from its base in Moldova's capital of Chisinau in mid-March due to concerns over the safety of the country's airspace amid the ongoing conflict in neighbouring Ukraine. As a result, the ULCC has significantly increased frequencies on several routes out of Iasi as a replacement for its Chisinau operations.
Wizz Air faces Ryanair challenge in Iasi
Wizz Air has been the dominant carrier out of Iasi, operating a network of over 20 destinations. However, on 26 March, its ULCC rival Ryanair commenced operations from Paris BVA, Milan BGY, Brussels CRL and Dublin to the Romanian city. Iasi has become increasingly attractive to airlines following the collapse of Romanian carrier Blue Air last year, which had planned to introduce over a dozen new routes from the city this summer and base four aircraft.