New Route of the Day 2 (28 November 2021): Air Leap between Stockholm ARN and Halmstad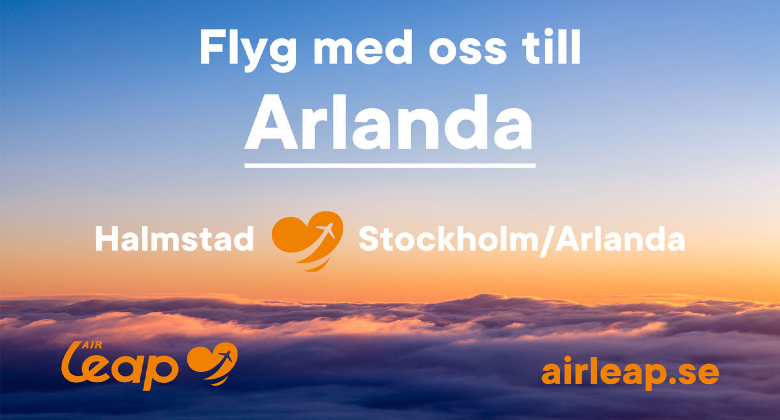 Swedish regional carrier Air Leap has begun non-stop service between Stockholm ARN and Halmstad. The 450-kilometre route is currently being flown daily (except Saturdays) using the airline's Saab 340s and ATR 72s and faces no direct competition. The airline previously served Halmstad from Stockholm BMA in competition with BRA Braathens, who will continue to operate their route with three daily flights on weekdays using ATR 72s. The new Arlanda route is expected to benefit in 2022 from a planned interline agreement with SAS, which the airline announced in early November. As a result it is also moving its Bromma-Visby and Bromma-Oslo services to Arlanda.
Air Leap (IATA code FL), which started flying in 2018, currently has a fleet of eight aircraft, according to planespotters.net, comprising one ATR 72, two Saab 2000s, and five Saab 340s. It currently operates four domestic routes from Stockholm ARN, two domestic routes from Oslo (to Orland and Roros) and a link between the two two capital cities. From 24 January it plans to offer 11-weekly service between Stockholm ARN and Turku in Finland.
Halmstad City Airport: a convenient joyride for locals to Stockholm
Located roughly midway between Gothenburg and Malmö, Halmstad is a port city on Sweden's west coast on the mouth of the Nissan River and has a municipal population of around 100,000. It is best known, at least among music fans, as the birthplace of Roxette's Per Gessle. The airport serving the city, Halmstad City Airport (IATA code HAD), is located less than four kilometres from the city centre. It handled between 100,000 and 120,000 passengers per annum pre-pandemic, with the majority being on flights to the Swedish capital. A brief history of the airport can be found here.