New Route of the Day 2 (31 March 2023): PLAY between Reykjavik and Stockholm ARN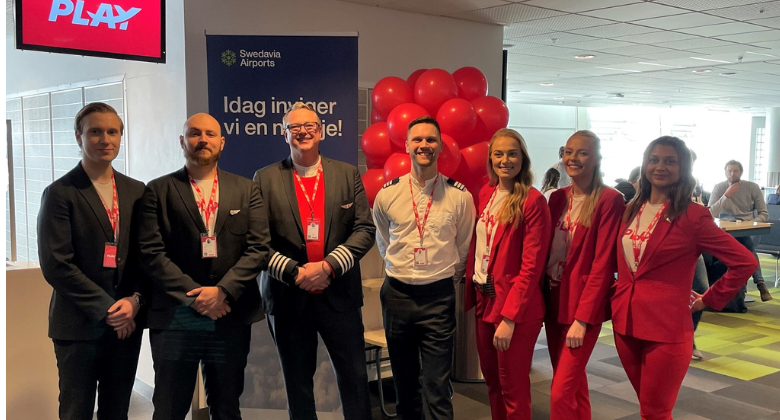 PLAY (IATA code OG) now connects Reykjavik with Stockholm ARN on a seasonal summer basis. The 2,150-kilometre route launched on Friday 31 March. Flights will operate 4-weekly, on Mondays, Wednesdays, Fridays and Sundays, with the 214-seat A321neo. PLAY will compete directly against rival Icelandair and its 8-weekly service between the two cities. Stockholm ARN becomes the LCC's second destination in Sweden as it already serves Gothenburg GOT.
Flights between Reykjavik and Stockholm are popular with leisure travellers, many of whom visit relatives and friends. Before the pandemic, there was a mix of travellers, from Sweden, Iceland and other countries who either stopped in Iceland or continued their journey via Reykjavik to North America.
What they said
Birgir Jonsson, the CEO of PLAY, said: "Stockholm is a fantastic city, and the Swedes are a curious people who love to travel. It is a great pleasure for me to create a manageable journey between Sweden and the USA – both in terms of logistics, travel time and price. It has been a couple of tough years in the airline industry, but we still prioritise keeping ticket prices as low as possible. Our customers want to travel, and we try to make it possible for as many as possible - both when we expand our network and when we keep the prices at a level where most people can participate."
Elizabeth Axtelius, Director Aviation Business at airport operator Swedavia, added: "We welcome PLAY to Stockholm Arlanda Airport and the increased connectivity to and from Sweden. It is really good news that PLAY sees more opportunities in the Swedish market and has chosen to also set up operations in Stockholm, which shows how attractive the region is".
PLAY adding thirteen new routes to its network
The launch of the Reykjavik - Stockholm service marks the start of PLAY's major network expansion, which will see the Icelandic LCC add thirteen new routes, the majority of which are European destinations that will be served on a seasonal summer basis.
PLAY's latest traffic statistics for February reveal that it carried almost 70,000 passengers at a load factor of 77%. For the two months of 2023 the carrier has transported just over 125,000 passengers at a load factor of 77%.