New Route of the Day (2 August 2021): Loganair between Edinburgh and Cardiff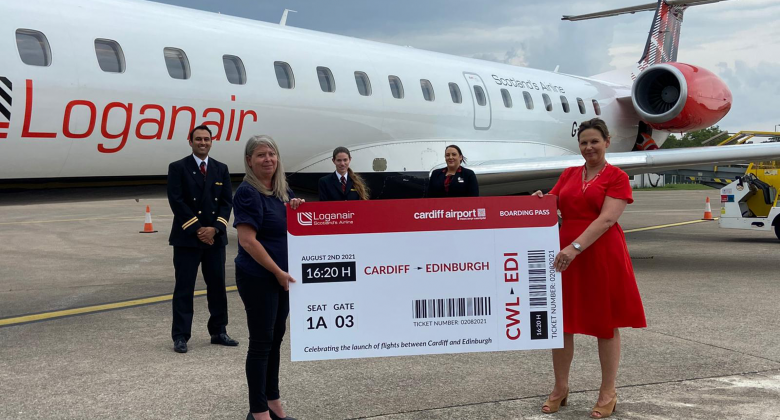 After a break of just over 16 months, the capitals of Scotland and Wales are once again connected by air. On Monday 2 August, Loganair began 5-weekly service between Edinburgh and Cardiff. The two airports were last connected by Flybe with up to three daily flights, before the UK regional carrier suspended all operations in early March 2020. The inaugural Loganair service on the 507-kilometre route (flight number LM 337 operated by an Embraer ERJ-145 registration G-SAJL) departed Edinburgh at 14:33 local time and arrived in Cardiff just 56 minutes later at 15:29 local time. The return flight (LM 338) departed the Welsh capital at 16:19 and arrived back in Scotland 58 minutes later at 17:17.
Ninth Loganair route from Edinburgh
This will bring to nine the number of domestic routes operated by Loganair from Edinburgh. The other eight (in frequency of service order) are Southampton (19-weekly), Kirkwall in the Orkney Islands (17-weekly), Sumburgh in the Shetland Islands (13-weekly), Exeter and Stornoway (both 7-weekly), Newquay (5-weekly), Isle of Man (3-weekly) and Norwich (2-weekly). Loganair's five busiest airports for flights in August are set to be Glasgow (130 weekly departures), Aberdeen (87), Edinburgh (78), Kirkwall (55) and Southampton (47). This is the airline's only route to Cardiff. In total Loganair now serves 32 airports with scheduled services.
According to UK CAA statistics, Loganair carried 18,434 passengers on 1,707 scheduled flights in April, resulting in a load factor of 34.5%. That same month, easyJet's UK domestic load factor was 55.6% and British Airways managed 54.9%.
Cardiff traffic down 98% in 2021
In the first five months of 2021 Cardiff Airport has handled just over 5,300 passengers in total, down over 98% compared with 2019. The airport's only other domestic service this August is to Belfast BHD, operated 4-weekly by Eastern Airways and launched on 27 May. The Welsh airport had been looking forward to celebrating the opening of a Wizz Air base this summer, but this has now been put back to the end of March 2022.
KLM has resumed service to Amsterdam while Ryanair is serving Barcelona, Faro and Malaga, all 2-weekly. Vueling is offering 2-weekly flights to Alicante, Malaga and Palma de Mallorca according to Cirium Data and Analytics, while TUI Airways is flying to a range of holiday destinations, primarily in and around the Mediterranean.