New Route of the Day (2 August 2021): Lufthansa between Frankfurt and Bristol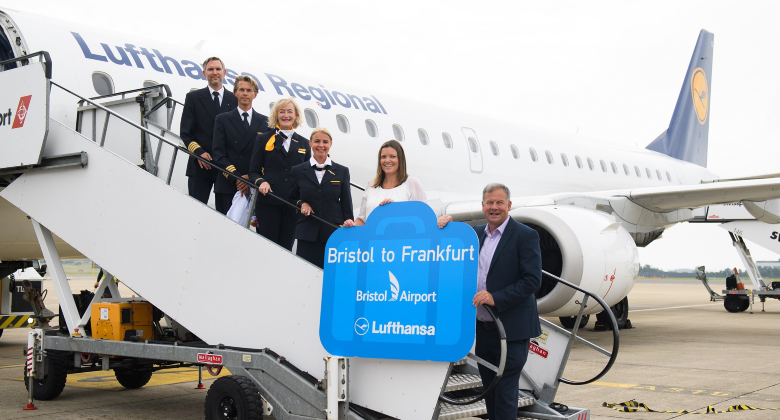 Over a year later than originally planned, Lufthansa finally began service between its Frankfurt base and Bristol in the south-west of the UK on Monday 2 August. Frequency on the route is set to increase from 2-weekly in the first week to 6-weekly by the beginning of September. The service is planned as daily for this winter. The inaugural service on the 810-kilometre route (flight number LH 970 operated by an Embraer E190 registration D-AECI) departed Frankfurt at 10:58 local time and arrived in Bristol just 78 minutes later at 11:16 local time. The return flight (LH 971) departed the UK at 12:11 and arrived back in Germany 75 minutes later at 14:26 local time.
Lufthansa now serves eight UK airports from Frankfurt
This new Bristol service raises to eight the number of UK airports served by Lufthansa from its Frankfurt hub. Pre-pandemic the German flag-carrier served Birmingham, Edinburgh, Glasgow, London LCY, London LHR and Manchester. On 1 July 2021 it launched a seventh route to Newcastle. In addition, Lufthansa currently serves Birmingham, London LHR and Manchester from its Munich base.
The airline's in-house LCC, Eurowings, also serves London LHR from Cologne Bonn, Düsseldorf, Hamburg and Stuttgart. There are also flights this summer with Eurowings from Düsseldorf to Birmingham, Edinburgh, Manchester and Newcastle using assorted A320-series aircraft.
easyJet and Ryanair also offer German routes from Bristol
Bristol is connected to two other German airports. easyJet serves the new Berlin airport with 2-weekly flights, with service set to resume on 6 September, increasing to 4-weekly from November. Ryanair's service to Cologne Bonn is currently set to return from 1 November with 2-weekly flights (Mondays and Fridays). This summer, easyJet and Ryanair are Bristol's leading carriers with the former offering 192 weekly departures in the second week of August, while Ryanair offers 96 weekly departures. Next comes Jet2.com with its recently opened base at the airport.
In terms of connections to major hubs, Bristol has long been connected to Amsterdam with multiple-daily flights provided by KLM. Good access to the US has also been helped by Aer Lingus offering multiple-daily flights pre-pandemic to its Dublin hub. It is now over a decade since Continental Airlines operated year-round, non-stop service to Newark. Launched in June 2005 the service was suspended at the end of October 2010. Since then, the only US services from Bristol have been to Orlando SFB with TUI Airways.