New Route of the Day (2 August 2023): Smartwings between Ceske Budejovice and Antalya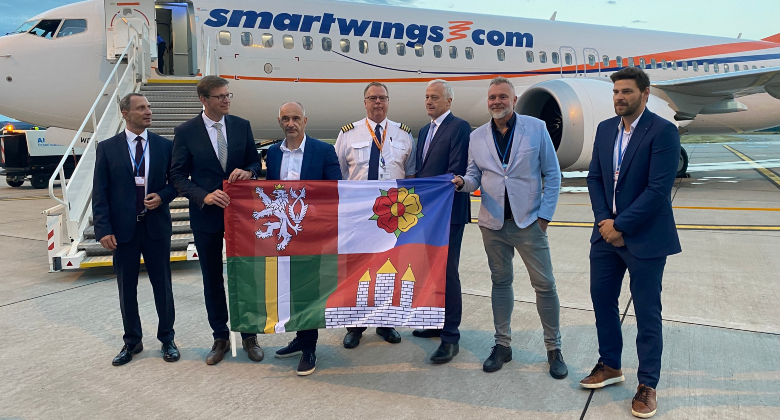 Smartwings has introduced seasonal flights from Ceske Budejovice in the south of the Czech Republic, and Antalya on Wednesday 2 August. It marks the first commercial service from the airport, which is being operated on behalf of the Cedok tour operator. The 1,885-kilometre flight will run weekly with the 189-seat 737-800. The carrier faces no competition on the route.
Flight QS3824 departs Ceske Budejovice at 21:10 local time, arriving in Antalya at 01:00 local time the following morning. The return service, operating as flight QS3825, takes off from the Turkish coastal city at 18:20 local time, arriving back in the Czech Republic at 20:20 local time.
What they said
Martin Kupka, the Minister for Transport in the Czech government, said: "The launch of flights from Ceske Budejovice Airport to tourist destinations is an important step towards increasing the comfort of the region's residents when traveling abroad. It was thus possible to ensure the viability of the project, which will be expanded next year to include other destinations where it will be possible to travel from this airport."
Stanislav Zeman, CEO of the Cedok tour operator, added: "We are happy that, thanks to the cooperation of the South Bohemian Region and the management of the from Ceske Budejovice Airport, we managed to take all the important steps to start operations, and today we mark a historic milestone in Czech aviation. Interest in flights from Ceske Budejovice has been record breaking since the beginning, so we can confirm today at the opening ceremony that we will be flying from here to five destinations next summer."
Ceske Budejovice is the Czech Republic's newest commercial airport
Ceske Budejovice has been transformed from a military to a civilian commercial airport after years of development. Work included the construction of a new passenger terminal, repairs to the runway and taxiways, the reinforcement of the runway surface and the addition of new navigation aids. In addition, an engineering network and a security centre were built. The airport aims to compete for traffic against Linz in neighbouring Austria.
Ceske Budejovice is located in the Czech Republic's South Bohemian Region. It has a population of around 96,000 people. It is home to the University of South Bohemia and is famous for its Budweiser Budvar Brewery. The airport is located six kilometres from the city centre.
Smartwings to serve three routes from Ceske Budejovice
During its initial operations from Ceske Budejovice this summer, Smartwings plans to maintain flights to three destinations. In addition to Antalya, they include Rhodes, launching 7 August, and Heraklion, which will be inaugurated on 14 August. Both will run on a weekly basis.
This August, Smartwings will have a total of twelve departing flights from Ceske Budejovice, offering 2,268 seats each way. Services will be maintained until the first week of October.