New Route of the Day (2 July 2022): British Airways between London LHR and Ponta Delgada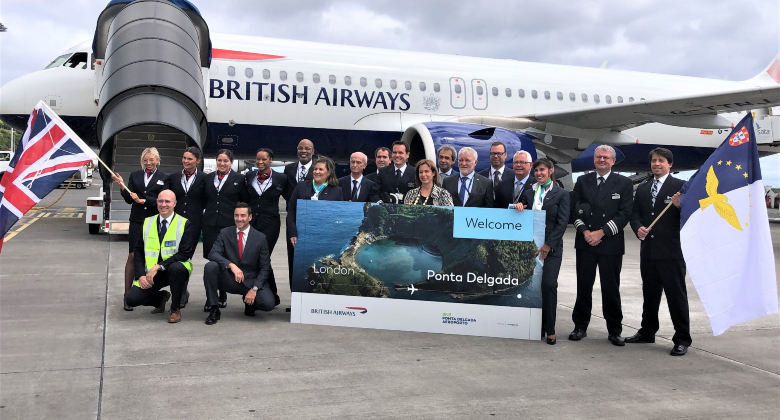 Despite all the flights that it has announced it plans to cut in the coming months, British Airways has added a new route from London LHR. On Saturday 2 July it launched a weekly service to Ponta Delgada, on the island of São Miguel in the Portuguese archipelago of the Azores. The 2,500-kilometre service will operate until 3 September, making a total of just 10 return flights using the airline's 180-seat A320neos.
British Airways is also set to launch weekly flights to Terceira Island, also in the Azores, from 10 July. That means that the UK flag-carrier will be operating to six Portuguese airports this summer. The others are Lisbon (20-weekly), Faro (15-weekly), Porto (14-weekly) and Funchal (6-weekly). Those frequencies are what were planned last week for the week commencing Monday 11 July. However, that may change by the start of next week.
Since the start of the summer season, British Airways has added several new routes from Heathrow. These are (weekly frequency at launch in brackets):
Fourth European flag-carrier to serve Ponta Delgada
British Airways joins three other European flag-carriers in serving Ponta Delgada. Iberia flies 2-weekly from Madrid, while Lufthansa and SWISS have weekly service from Frankfurt and Geneva (not Zurich) respectively. In addition, Ryanair operates international flights from London STN, Manchester and Nuremberg (launched 2 April), Transavia flies from Amsterdam (launched 24 April) and Paris ORY, Binter Canarias serves Gran Canaria (since 2 July), TUI fly Netherlands serves Rotterdam and TUI fly Belgium serves Brussels.
Finally, United offers non-stop service to New York EWR, a route that started on 13 May. Initially, service was 3-weekly, but this has now increased to daily.