New Route of the Day (2 July 2023): SAUDIA between Jeddah and Birmingham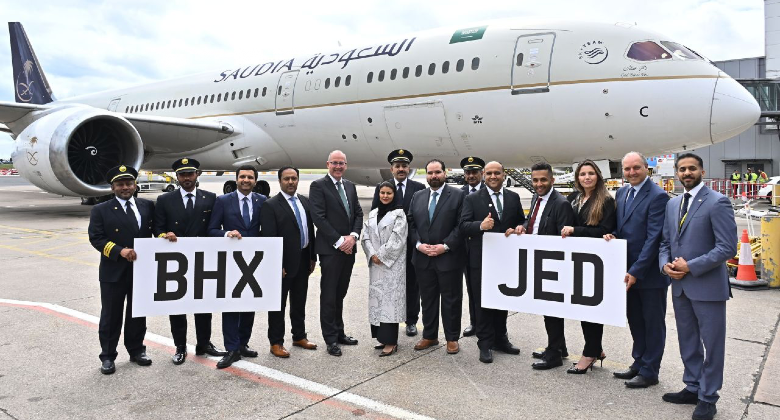 SAUDIA
 began a 3-weekly service between Jeddah and Birmingham on Sunday 2 July. The 4,880-kilometre route will be flown using the airline's fleet of 787-9s. SAUDIA faces no competition between the two cities.
Flight SV251 departs Jeddah at 08:10 local time on Tuesdays, Thursdays and Sundays, arriving in Birmingham at 13:00 local time. The return service, operating as flight SV250, leaves the UK airport at 14:30 and arrives back in Saudi Arabia at 22:40 local time.
What they said
Manal Alshehri, Vice President of Passenger Sales for SAUDIA said: "We are proud to be expanding our operations in the United Kingdom and continue to regularly offer new destinations to our guests. The United Kingdom is a very important destination for SAUDIA, and the launch of new direct flights to and from Birmingham highlights the strengthening of relations between our two countries. We're also very grateful for the continuous support from the Air Connectivity Program, which enables us to continue to grow as we work towards our objective to bring the world to Saudi Arabia."
Nick Barton, CEO of Birmingham Airport, added: "We are so pleased to welcome SAUDIA to Birmingham Airport for what we hope will be a long-lasting and fruitful partnership. Among the six million people who live in our immediate catchment are many thousands who now have wonderful new options with SAUDIA, whether they're travelling for business, leisure, family or religious purposes. Some will go to Jeddah to sample its beautiful beaches, modern architecture and rich cultural heritage, including the historic Al-Balad district. Some will go on to Makkah and Medina for Hajj. Others will travel onwards via SAUDIA's impressive global network to destinations in Asia, Africa and North America. Brits travelling from Birmingham beyond Jeddah, can also make use of the 'stop-over visa' - a chance to enjoy Jeddah before heading on."
Gulf carriers expand Birmingham presence
Birmingham Airport has been a hive of activity as a number of airlines from the Gulf have increased their presence in the city. On Saturday 1 July, Emirates resumed their flagship twice-daily A380 service. Following SAUDIA's Jeddah launch, Qatar Airways returned to Birmingham after three years to reinstate its daily Doha route on 6 July.
Birmingham Airport's core catchment is the Midlands, an area of the UK which is home to more than 10 million people and whose economy is the size of Portugal's. It is also home to significant Southeast Asian and African diasporas, which SAUDIA and other Gulf carriers target.
Birmingham is SAUDIA's fourth UK airport
SAUDIA has an extensive route network to the United Kingdom, with flights to London LGW, London LHR and Manchester, alongside the new Birmingham service. Like for many other Middle Eastern carriers, the UK market is one of the most lucrative in SAUDIA's network. 
The Saudi flag carrier now flies to 21 European destinations.