New Route of the Day (2 June 2023): AnadoluJet between Ankara and Bishkek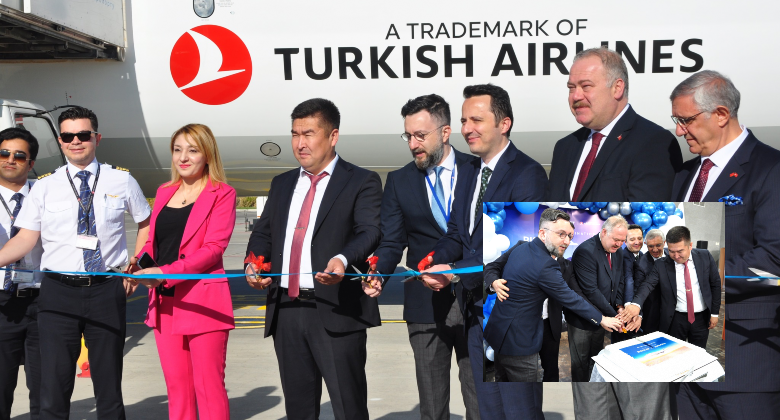 AnadoluJet, which is part of Turkish Airlines, operating as the company's lower-cost unit, and uses the carrier's IATA code of TK, on Friday 2 June introduced flights between Ankara and Bishkek, the capital of Kyrgyzstan in Central Asia. The 3,450-kilometre 4-weekly service is being initially maintained on Tuesdays, Fridays, Saturdays and Sundays, with daily operations to commence in August. A 737-800 is being utilised on the route.
Flight TK5598 departs Ankara at 23:55 local time, arriving in Bishkek at 07:35 local time the following morning. The inbound service, operating as TK5599, takes off from the Kyrgyz capital on Mondays, Wednesdays, Saturdays and Sundays at 08:40 local time, touching back down in Turkey at 10:40 local time.
AnadoluJet's service from Ankara to Bishkek complements its parent company's 3-daily flights from Istanbul IST.
What they said
Mirlan Kubataliev, Executive Director of airport operator MEA, said: "Today is a very important day for the company, because for the first time in the airport's history we have scheduled flights launching between the capitals of two Turkish-speaking countries - Kyrgyzstan and Turkey. I believe that relations between our two nations will be further strengthened with the opening of these nonstop flights. This will also contribute to the development of tourism and the economy of Kyrgyzstan."
AnadoluJet expands in Central Asia
AnadoluJet has become the biggest carrier operating out of Turkey's capital. It offers the biggest destination network out of Ankara, surpassing LCC rival Pegasus Airlines. Late last year, Turkish Airlines announced plans to make AnadoluJet a stand-alone unit to enable it to grow further. AnadoluJet now counts a fleet of over 60 aircraft and hubs in Ankara and Istanbul SAW.
AnadoluJet has only recently started flying to Central Asia. It initially began serving Astana and Almaty in Kazakhstan from Ankara in late March of this year. It was followed by the introduction of flights from the Turkish capital to Tashkent in Uzbekistan on 17 April. In total, the airline now serves four cities in Kazakhstan, Uzbekistan and Kyrgyzstan.