New Route of the Day (2 June 2023): Ryanair between London STN and Osijek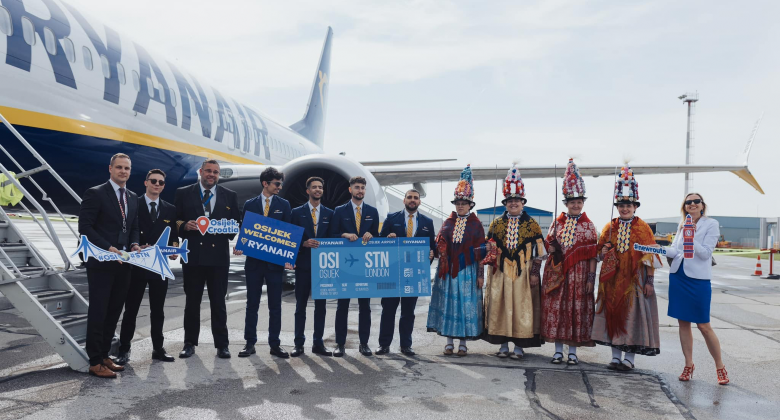 Ryanair launched seasonal flights between London STN and Osijek on Friday 2 June, marking its return to the city in continental Croatia after six years. The 1,525-kilometre route will be maintained 2-weekly, on Mondays and Fridays, with the 737-800 aircraft. It faces no competition between the two. Osijek becomes the seventh city the ULCC serves in Croatia.
What they said
Ivan Radic, the Mayor of Osijek, said: "For the first time since 2017 a Ryanair aircraft has landed in Osijek. I would like to remind the public that just two years ago we had no international flights out of Osijek, while we now have Munich and London. Osijek is registering record tourist numbers and I am confident this new route will only aid the figures. The average cabin load factor on these flights is excellent."
Simon Thomas, the Ambassador of the United Kingdom to Croatia, added: "We have excellent and friendly relations between the region of Slavonia and the United Kingdom, and now we have another connection. It is excellent to see Ryanair link Osijek and London. We are certain it will boost tourism in both directions."
Ryanair back in Osijek after six years
Ryanair served the London STN - Osijek route on a year-round basis in the past but abruptly discontinued flights in January 2017. The development occurred after Osijek refused to provide subsidies in the form of advertising concessions to the airline. At the time, the airport said that conditions put forward by Ryanair were unacceptable.
Osijek rebuilds international traffic
Osijek is the fourth-largest city in Croatia located in the country's east close to the borders with Serbia and Hungary. It has a population of just under 100,000 people. Unlike its counterparts on the country's Adriatic coast, Osijek does not rely heavily on tourism and demand for international flights is driven by visiting friends and family. The Slavonia region, of which Osijek is a part of, has seen high levels of emigration since Croatia joined the European Union in 2013.
Osijek Airport is primarily served by domestic Public Service Obligation (PSO) flights from Dubrovnik, Split, Rijeka, Pula, Zadar and Zagreb. In late 2021, Croatia Airlines commenced operations between Osijek and Munich, which has been the airport's only international route up until now. The airport handled just over 16,800 passengers in 2022 with its busiest year being 2018, when over 67,000 travellers passed through Osijek's terminal. At the time, it was served by Eurowings.