New Route of the Day (2 June 2023): Wizz Air between Kutaisi and Hamburg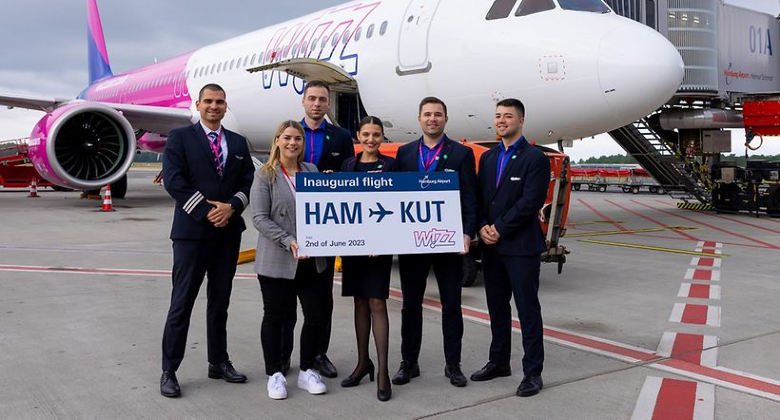 Wizz Air introduced flights between Kutaisi in Georgia and Hamburg on Friday 2 June. The 2,720-kilometre service will be maintained 2-weekly, on Mondays and Fridays, with the A320-family aircraft. The ULCC faces no competition on the route.
What they said
Valeria Bragarenco, Corporate Communications Manager at Wizz Air, said: "We are very pleased to open a long-awaited connection between Kutaisi and Hamburg. This is an exciting time for both Germany and Georgia. The new route will make tourism between these two countries easier than ever. We will continue to innovate and promote cost-effective and sustainable flying for the benefit of German and Georgian passengers. We look forward to seeing you soon on our Wizz Air flights."
Dirk Behrens, Head of the Aviation Division at Hamburg Airport, added: "The high summer travel season is ahead of us and many northern Germans will soon be heading back to their home country or to visit friends. I am all the more pleased that Wizz Air is connecting the Hanseatic city nonstop with Kutaisi in Georgia for the first time. For our passengers, this means a lot of comfort and a short journey. In addition, Wizz Air has announced that it will expand its offer from Hamburg to southern Europe in winter. From Hamburg, the airline is currently concentrating on destinations in Eastern Europe. With its planned route extension, Wizz Air will be positioning itself more broadly at our airport in the future."
Wizz Air bases third jet in Kutaisi
On 1 June, Wizz Air based its third aircraft in Kutaisi - an A321neo. The jet has enabled the launch of flights to Hamburg as well as an additional five routes for a total of 28.
1 June: Frankfurt HHN (2-weekly)
3 June: Poznan (2-weekly)
3 June: Charleroi (2-weekly)
4 June: Madrid (2-weekly)
1 December: Copenhagen (2-weekly)
Apart from the new additions, the ULCC will increase frequencies on existing services to Memmingen, Milan MXP, Paris BVA and Prague. With the third aircraft at the base and the new routes added to the Georgian network, Wizz Air has consolidated its leading position in the market as the largest airline operating from Kutaisi.
Wizz Air expands Eastern European network from Hamburg
During S23, Wizz Air is serving nine destinations in Eastern Europe from Hamburg. In addition to the new Kutaisi service, it maintains rotations to five capital cities in the region. These include Belgrade, Bucharest, Sofia, Skopje and Tirana. Furthermore, it runs services to the Bulgarian port city of Varna, as well as Gdansk on Poland's Baltic Coast and to Bosnia and Herzegovina's second largest city of Banja Luka. The airline has announced the addition of Catania in Southern Europe to its network from 18 December.