New Route of the Day (2 March 2023): Air Arabia Maroc between Fez and Weeze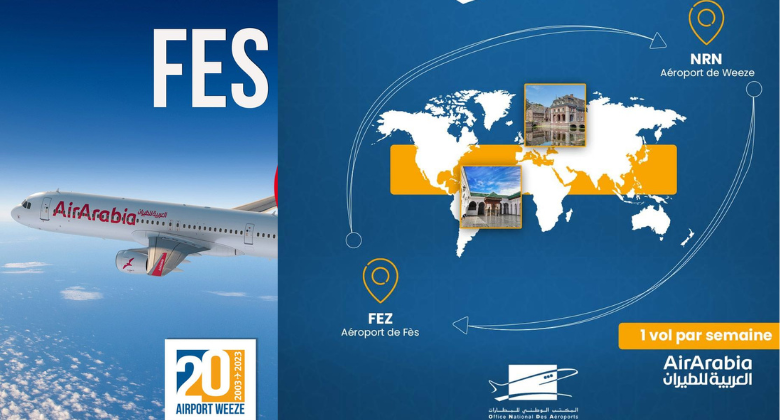 Air Arabia Maroc on 2 March started service between Fez and Weeze, in Germany's lower Rhine region on the border with the Netherlands. The weekly 2,160-kilometre route operates each Thursday and will increase to 2-weekly from 28 March, with the additional rotation to run on Tuesdays. Flight 3O236 departs Fez at 14:00 local time, arriving at 17.30 local time. The return service leaves Weeze at 18:20 local time, landing in Fez at 21:50 local time. The carrier is using an A320 on the route.
Air Arabia Maroc now serves three German routes
The new Fez to Weeze service becomes the airline's third route between Morocco and Germany. It competes directly against Ryanair's 2-weekly service between the two cities. The Moroccan ULCC also maintains year-round flights from Nador to Cologne and Frankfurt HHN. It will further strengthen its operations to Germany with the introduction of a seasonal summer service from Tangier to Cologne on 24 June, operating weekly until 1 September.
According to the Federal Statistical Office of Germany, there is a significant Moroccan community in the state of North Rhine-Westphalia, of which Weeze is a part of. Some 300,000 people of Moroccan descent or background are estimated to be living in Germany.
14 routes from Fez this summer
According to Cirium data, Air Arabia Maroc will be offering 41 weekly non-stop flights across 14 destinations from Fez this summer. Two routes are domestic (to Agadir and Marrakech), seven destinations are in France, while the remaining five are to Belgium (Brussels BRU), Germany (Weeze), Netherlands (Amsterdam), Spain (Barcelona) and Turkey (Istanbul IST).