New Route of the Day (2 November 2023): Norse Atlantic between Oslo OSL and Bangkok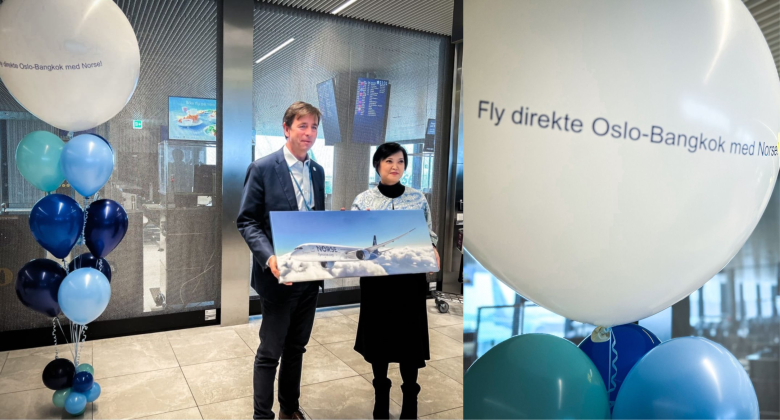 Norse Atlantic launched its first service to southeast Asia on Thursday 2 November, between its Oslo OSL base and Bangkok. The 8,675-kilometre route will be maintained 2-weekly, on Thursdays and Saturdays departing the Norwegian capital, with its 338-seat 787-9 aircraft. It faces no competition between the two cities. During the peak holiday travel period, Norse Atlantic will increase the service from 2 to 3-weekly between 19 December until 14 January 2024, as well as between 19 March and 30 March of next year. Flights will run only during the winter season.
Flight N091 departs Oslo OSL at 16:10 local time, arriving in Bangkok at 10:15 local time the following morning. The inbound service, operating as flight N092, takes off from the Thai capital at 12:30 local time on Fridays and Sundays, touching back down in Norway at 19:30 local time.
What they said
Bjorn Tore Larsen, CEO and Founder of Norse Atlantic, said: "Today marks a momentous occasion for Norse Atlantic Airways, and for both Norway and Thailand. We are proud to be the only airline offering this direct connection, making travel more convenient and accessible for people of both nations. Our aim is to further strengthen ties and promote cultural exchange between these two incredible destinations."
Vimolbajra Ruksakiati, the Ambassador of Thailand to Norway, added: "Today is certainly a milestone of achievement. I would like to express my deep appreciation to Norse Atlantic Airways for their positive contribution to strengthening our bilateral relations. This historic inaugural flight marks a key step in bringing our two nations closer together through the promotion of tourism."
Bangkok is Oslo's sole destination in Asia
Oslo OSL previously boasted services to Bangkok through Norwegian and Thai Airways, both of which maintained operations on the route until the onset of the coronavirus pandemic. Since then, Norwegian has discontinued long-haul flights following a shift in its business strategy, while Thai Airways has focused its Scandinavia operations on Copenhagen and Stockholm ARN.
Up until the launch of Norse Atlantic's Bangkok service, the Thai capital was the busiest unserved destination in Asia from Oslo Airport, although the majority of the demand is seasonal during the winter period.
Oslo Airport targets long-haul expansion
Oslo Airport hopes to expand its long-haul network with North America being a key target. Norse Atlantic currently links Oslo OSL with Miami and seasonally with New York JFK and Los Angeles, while SAS operates flights to New York EWR. The main growth in long-haul passengers at Oslo Airport is coming from the North American market and that is expected to continue in the future. The airport's operator Avinor is targeting improved connectivity with New York, as well as flights to Canada.
Oslo Airport handled 19,229,740 passengers during the first three quarters of the year, representing an increase of 10% on 2022.