New Route of the Day (2 September 2021): airBaltic between Riga and Tenerife Sur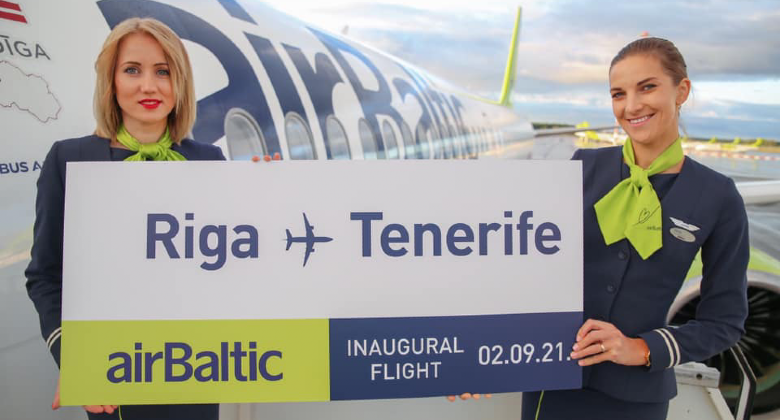 airBaltic launched its longest ever intra-European route when it began weekly service on Thursday 2 September between Riga in Latvia and Tenerife Sur in Spain. The inaugural service on the 4,511-kilometre route (flight number BT 761 operated by an Airbus A220-300, registration YL-CSE) departed Riga at 08:37 and touched down in Tenerife just under six hours later at 12:45 local time. The return flight (BT 762) departed the Canary Island airport at 14:05 and arrived back in Latvia five hours and 39 minutes later at 21:44 local time. Tenerife TFS becomes airBaltic's sixth destination in Spain as it already flies to Barcelona, Madrid, Malaga, Palma de Mallorca and Valencia.
For Tenerife TFS this becomes the third longest sector flown from the airport behind Moscow SVO (5,250 kilometres) and Helsinki (4,746 kilometres). Moscow has been served this year by Aeroflot, while Helsinki flights have been offered by Finnair, Norwegian and TUIfly Nordic. Over 40 airlines will be serving Tenerife TFS this winter according to Cirium Data and Analytics schedule information.
In July, Riga's passenger traffic was down 64% to 298,000 while Tenerife TFS traffic was down 59% to 367,000.