New Route of the Day (2 September 2022): Flyr between Oslo OSL and Kristiansund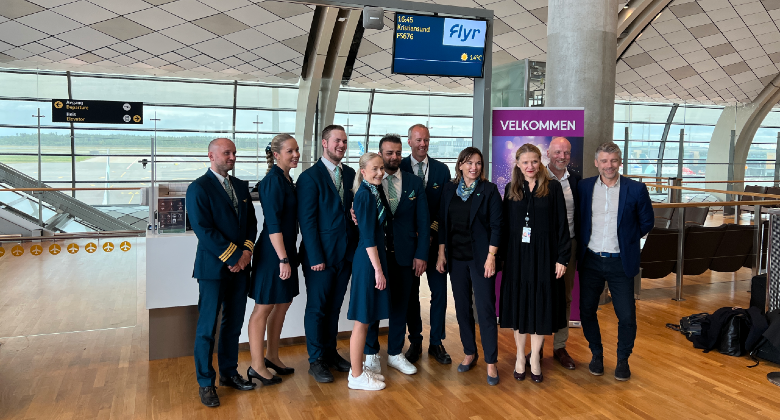 Flyr has added Kristiansund to its domestic network with the introduction of 4-weekly service from Oslo OSL. The inaugural flight was on Friday 2 September. The other flights on the 370-kilometre route will operate on Mondays, Wednesdays and Sundays, with a different flight number depending on the day of the week. The inaugural flight, FS676, departed Oslo at 16:56 local time and touched down in Kristiansund 42 minutes later at 17:38, operated by one of the airline's 737 MAX 8s with the registration LN-FGJ. The return flight (FS677) departed at 18:31 and arrived back in the Norwegian capital just 38 minutes later at 19:09.
Competition from SAS
According to Cirium schedule data, the route is already served 18-weekly by SAS. The Star Alliance carrier uses a mix of A319s, A320s, A320neos, 737-700s and 737-800s. To travel between the two cities by road (a distance of 570 kilometres) would be expected to take almost eight hours.
The only other scheduled service being offered from the airport this summer is a 24-weekly service to Bergen (up to four flights per day) operated by Widerøe with its DHC-8-300s. The airport is also a base for helicopter traffic to the Norwegian Sea oil fields. Traffic at the airport peaked at just under 400,000 passengers in 2013 when bmi regional served the airport from Aberdeen. Pre-pandemic, Widerøe, also operated non-stop flights to Molde and Trondheim.
Kristiansund Airport lies on the island of Nordlandet. The closest alternative airports are Molde (50 kilometres to the southwest) and Ålesund (110 kilometres to the southwest). Trondheim Airport lies around 160 kilometres (by air) to the east. The municipality of Kristiansund has a population of just under 25,000 people.