New Route of the Day (20 December 2021): HiSky to Milan BGY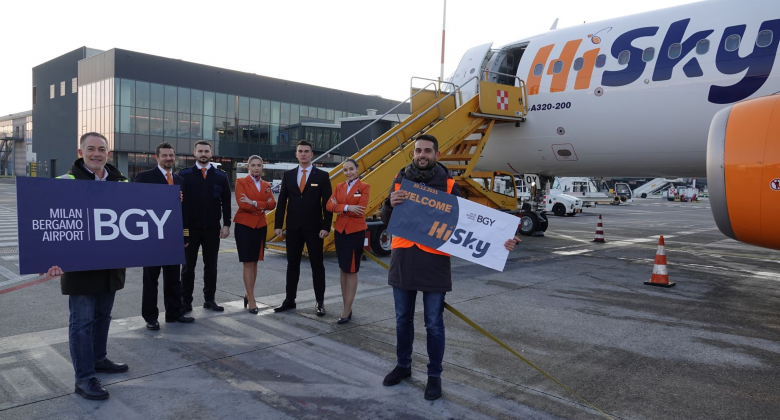 HiSky added Milan BGY to its network when it introduced service from both Baia Mare and Targu Mures on 20 December. Both of these new Romanian routes will be served 2-weekly using the airline's A320s. On Christmas Eve, HiSky added a third new route to Bergamo, from Chisinau in Moldova, also operating 2-weekly. This route will compete directly with Wizz Air's 4-weekly service. HiSky currently operates a fleet of three 180-seat A320s, which are registered YR-BEE, YR-JOY and YR-SKY.
The airline's website shows flights operating from Chisinau in Moldova and five Romanian airports; Baia Mare, Cluj-Napoca, Iasi, Satu Mare and Targu Mures. Destinations listed as being served from one or more of these airports are Dublin, Frankfurt, Lisbon, London STN, Milan BGY, Moscow VKO and Paris BVA. However, as of 6 January 2022, all three routes from Targu Mures (London STN, Milan BGY and Paris BVA) are no longer bookable.
What they said
Giacomo Cattaneo, Director of Commercial Aviation, SACBO said: "This year has been another of hardships for everyone but I'm more than proud to have been able to see so many new airlines join our portfolio, it feels an appropriate end to 2021 to welcome our sixth new carrier, HiSky, in the run up to the festive season. Milan Bergamo already supports flights to Bacâu, Cluj-Napoca, Timisoara, Craiova, Iasi, and Bucharest Otopeni in Romania, so it is great that we can now offer two further destinations to what is a growing market for us, while the additional services to Chisinau will support the growing demand from our customers to visit the most prosperous locality in Moldova."