New Route of the Day (20 December 2022): easyJet between Lyon and Funchal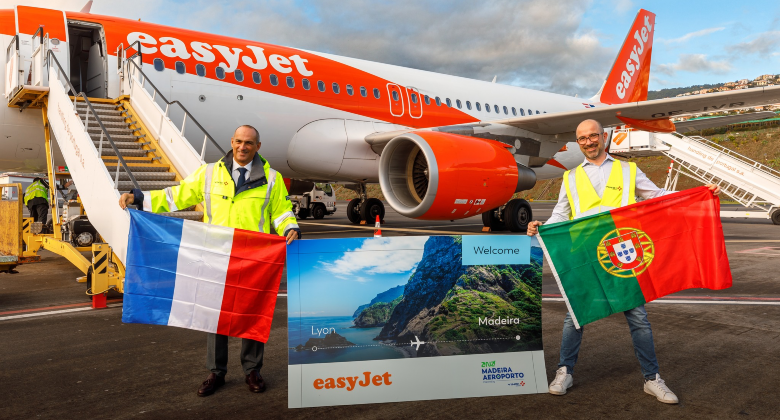 easyJet launched its last new route of 2022 on Tuesday 20 December. That was the start date for its new 2-weekly service between Lyon and Funchal. The 2,370-kilometre route will be flown on Tuesdays and Saturdays until the end of June, and then weekly (Tuesdays) in July and August, before reverting to 2-weekly from September onwards. This winter easyJet is also serving Funchal from seven of its other bases; Berlin, Bristol, Lisbon, London LGW, Manchester, Milan MXP and Porto. In total, easyJet is operating 36 weekly flights to Porto in January.
Competition on the new route comes from Transavia France, which began weekly (Saturday) service between the two airports on 5 November 2022 using its 737-800s. This is almost a year-round service, though there is no service between 7 January and 4 February.
easyJet is #1 carrier in Lyon
Lyon became an easyJet base back in the summer of 2008. Over 60 destinations have been served by the carrier at one time or other from Lyon. Since the start of the pandemic this is only the third new route launched by easyJet from Lyon, the other two being Calvi (in Corsica) in June 2021 and Kos in July 2021. A further new route to Malaga is set to launch on 3 June 2023 according to the airline's online booking tool.
According to Cirium data, in the third quarter of 2022, easyJet was Lyon's busiest carrier in terms of seat capacity (23%), ahead of Air France (16%) and Transavia France (9%). easyJet's network from Lyon this summer comprises 38 routes across nine countries (weekly frequency in August shown in brackets):
Croatia: Dubrovnik (2), Split (5)
Denmark: Copenhagen (2)
France: Ajaccio (9), Bastia (7), Biarritz (7), Bordeaux (13), Brest (5), Calvi (3), Figari (9), Nantes (7), Rennes (4), Toulouse (7)
Greece: Chania (2), Corfu (2), Kos (1), Mykonos (2)
Italy: Catania (3), Naples (2), Olbia (4), Palermo (4), Rome FCO (3), Venice VCE (4)
Morocco: Marrakech (3)
Portugal: Faro (3), Funchal (1), Lisbon (10), Porto (13)
Spain: Barcelona (4), Ibiza (2), Lanzarote (2), Malaga (2), Menorca (4), Palma de Mallorca (8), Tenerife TFS (2)
UK: Edinburgh (2), London LGW (16), London LTN (5)
Of the 184 planned weekly departures in August, the busiest country markets are France (71), Portugal (27), Spain (24) and the UK (23). In addition, there are winter-only flights from Belfast BFS, Bristol and Manchester in the UK, to Agadir in Morocco, and Fuerteventura in Spain.