New Route of the Day (20 July 2021): easyJet between Barcelona and Salzburg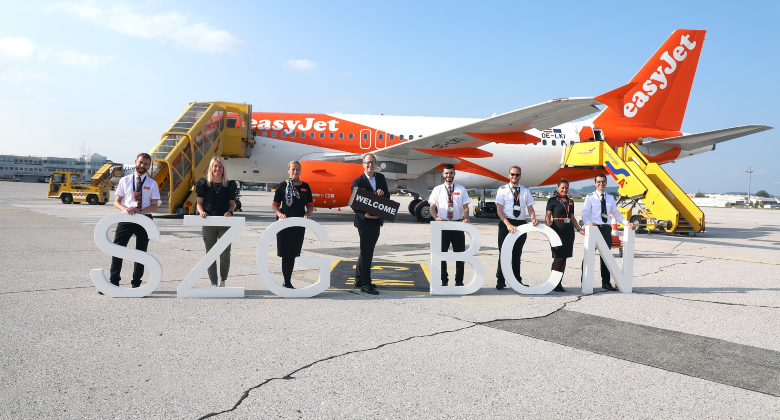 easyJet on 20 July launched service between its base in Barcelona and Salzburg in Austria, operating 2-weekly (on Tuesdays and Saturdays). The 1,128-kilometre route faces no direct competition. The inaugural service (flight number EZY 3647 operated by an Airbus A319 registration OE-LKI) departed Catalonia at 16:06 local time and touched down in the Austrian city at 17:47 local time, a whopping 33 minutes ahead of schedule. The return flight back to Barcelona also landed over half an hour early.
The only other airline to offer scheduled services between Barcelona and Salzburg since 2000 was SkyEurope. The Bratislava-based LCC offered 2-weekly service between December 2005 and March 2007 using its 737-500s. Considering that neither airport was a base for the airline, this must have been operated as part of a "W" pattern.
easyJet adds and cuts in Barcelona
Barcelona became an easyJet base in February 2016, almost 20 years after the airline first started serving the airport from London LTN. This July, easyJet has added six new routes from Barcelona. Apart from Salzburg, the carrier has added Amsterdam (4-weekly from 19 July, last served in 2012), Copenhagen (4-weekly from 19 July), Olbia (2-weekly from 20 July), Prague (3-weekly from 19 July) and Zurich (3-weekly from 20 July). A further new service to Glasgow, originally planned to launch last summer, is now scheduled to commence from 3 October.
In total, Cirium Data and Analytics is showing easyJet operating 17 routes from Barcelona in August, which is the same number as in August 2019. With six routes having been added, it means that six have also been suspended. These six destinations are Belfast BFS, Bordeaux, Liverpool, London SEN, Naples and Newcastle. However, Belfast BFS services are currently set to resume on 8 September, while Liverpool flights should recommence on 1 November.