New Route of the Day (20 June 2021): Swoop between Hamilton and Kelowna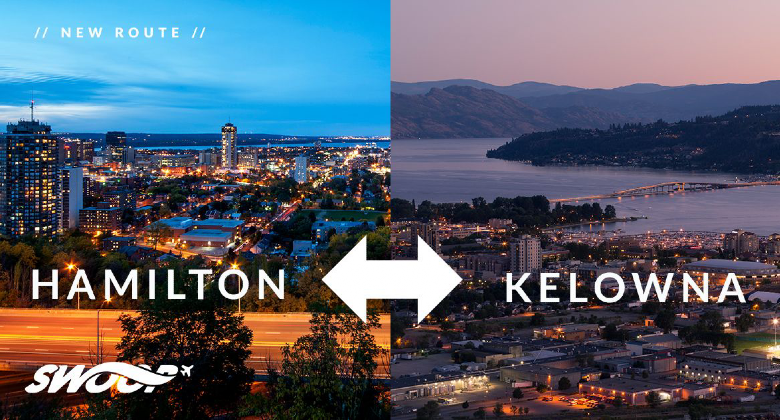 WestJet's ultra low-cost subsidiary Swoop (IATA code WO), celebrated its third anniversary on Sunday 20 June 2021 with the introduction of a new route between Hamilton in Ontario and Kelowna in British Columbia. The 3,080-kilometre route is currently served weekly using the airline's fleet of 189-seat 737-800s, of which it currently has nine. No other carrier connects these two airports with non-stop service. According to flightradar24.com, the inaugural flight (WO 155 operated by C-GNDG) departed Hamilton at 08:44 and arrived in Kelowna four and a half hours later at 10:19.
What they said
Bert van der Stege, Head of Commercial and Finance, Swoop, said: "Today's inaugural flight is another milestone for Swoop as we continue in our recovery efforts to re-build our network. Swoop's success would not be possible without the support of our airport partners just like John C. Munro Hamilton Airport and Kelowna International Airport as well as our Swoopsters who share in our mission of making air travel more affordable for all."
Cathie Puckering, President and CEO, John C. Munro Hamilton International Airport, commented: "Looking back to Swoop's very first flight from Hamilton International Airport to Abbotsford on June 20, 2018, it's amazing to know our partnership is now three years strong as we celebrate Swoop's 3rd birthday! Today, another milestone is proudly celebrated with new service from Hamilton to Kelowna, connecting one wine country to another!"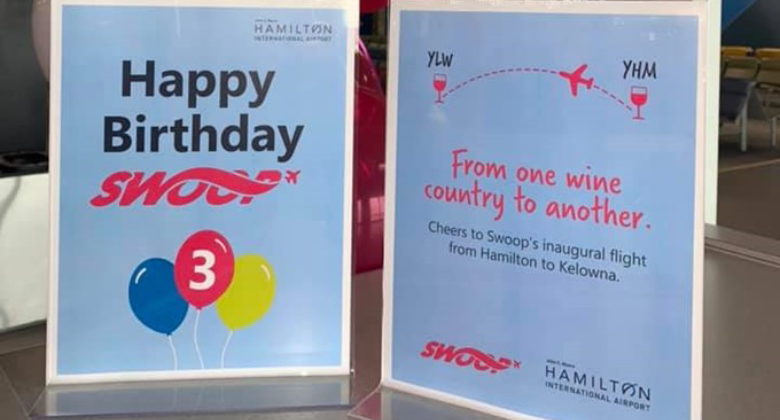 Hamilton now only Swoop's fourth busiest airport this summer
Hamilton, around 65 kilometres south-west of Toronto, used to be Swoop's busiest airport with 56 weekly departures in August 2019, ahead of Edmonton with 51 and Abbotsford (near Vancouver) with 41. Cirium Data and Analytics schedule information for August 2021 indicates that Hamilton will be Swoop's fourth busiest airport with 36 weekly departures, behind Edmonton (46), Abbotsford (42) and Toronto YYZ (41). By August, Swoop will also serve Kelowna non-stop from Toronto YYZ (daily) and Winnipeg (3-weekly), while Hamilton frequency will also have increased to 3-weekly.