New Route of the Day (20 September 2023): Hainan Airlines between Shenzhen and Milan MXP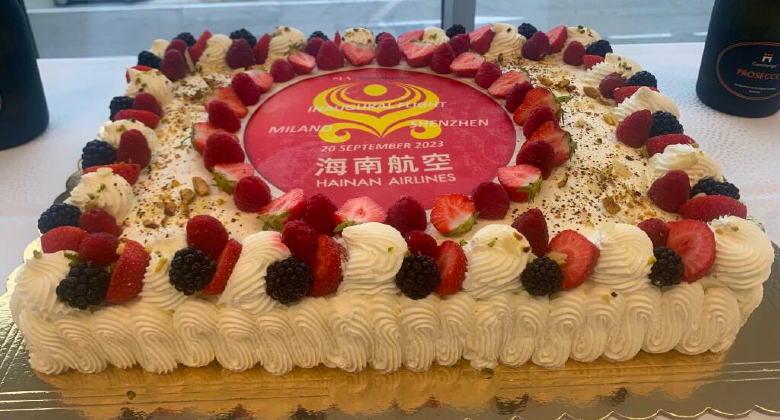 China's Hainan Airlines introduced flights between Shenzhen and Milan MXP on Wednesday 20 September. The 9,340-kilometre service will be maintained 3-weekly, on Mondays, Wednesdays and Saturdays, utilising the 289-seat B787-9 aircraft. It faces no competition on the route.
Flight HU7973 departs Shenzhen at 02:05 local time, arriving in Milan at 08:55 local time. The return service, operating as flight HU7974, takes off from Italy's second-largest city at 10:55 local time, touching back down in China at 05:00 local time the following morning.
What they said
Lewis Liu Zhaocai, General Manager for Italy at Hainan Airlines, sad: "Hainan Airlines has resumed and opened more than 30 international and regional routes departing from nine cities, including Beijing, Shenzhen, Shanghai, Haikou, Chongqing, Xi'an, Changsha, Guangzhou and Taiyuan. In the future, Hainan Airlines will continue down this path in order to meet market demand. This Malpensa route is Hainan Airlines' third nonstop service to Italy."
Andrea Tucci, Vice President of operator SEA Milan Airports, added: "Today is an important day for us. We are the airport that has recovered the quickest in Italy in restoring flights to China. Today, we welcome a new carrier and a new destination, bringing our total count to 180 cities."
Milan MXP's China operations outstrip pre-pandemic levels
This coming winter season, Milan MXP will boast more flights to China than prior to the pandemic. In addition to Hainan Airlines' new service, the airport is also served by Air China from Beijing PEK, Shanghai PVG and Wenzhou. Italy's Neos maintains services to Nanjing, while Juneyao Airlines will commence operations between Zhengzhou and Milan MXP on 30 October.
As a result, Milan MXP will have 25-weekly flights to China with 7,657 seats on the market each way. This is in comparison to 16-weekly rotations offering 5,086 seats each way prior to the pandemic.
Hainan Airlines grows Italy operations
The new Shenzhen - Milan MXP route becomes Hainan Airlines' third to Italy. The carrier already operates between Shenzhen and Rome FCO, as well as between Chongqing and the Italian capital. Overall, the Milan flights are Hainan Airlines' seventh nonstop international service from Shenzhen. The Chinese carrier has never served Milan MXP in the past.