New Route of the Day (21 April 2022): Air Serbia between Belgrade and Valencia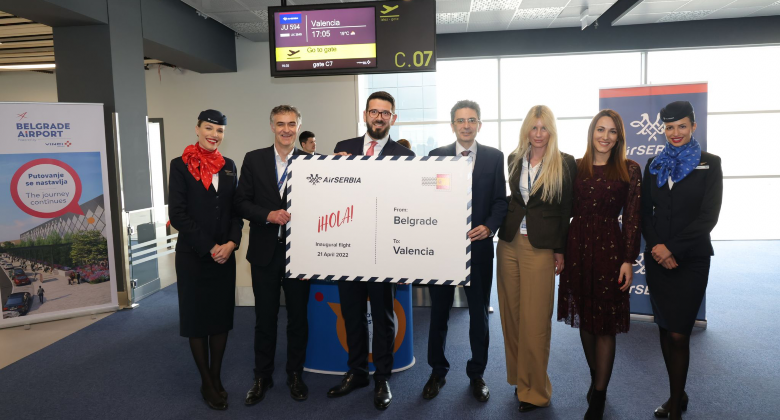 Air Serbia (IATA code JU) began a new route to Spain on Thursday 21 April when it operated the first flight (JU 594) on the 1,810-kilometre sector between Belgrade and Valencia. According to Cirium data, there will be 2-weekly services (Thursdays and Sundays) during the summer using the airline's A319s, though the inaugural service was operated by the carrier's sole A320 (registration YU-APH). No other carrier connects these two airports. Air Serbia already serves Barcelona and Madrid, making this the airline's third route to Spain.
What they said
Boško Rupić, General Manager, Commercial and Strategy, Air Serbia, said: "We are very happy to start the new expansion of our network by launching the Valencia service and strengthening our presence in Spain. We are convinced that this will contribute to better connectivity and development of commercial and tourist activities between our two countries. Spain is a traditionally interesting market for our passengers and a very popular summer holiday destination, and this is further evidenced by high demand and good load factor on flights toward all our destinations in this Mediterranean country in the coming period."
Over 50 routes from Belgrade this summer
In the next few weeks Air Serbia is set to launch several additional new routes from Belgrade:
Bari: 3-weekly from 5 June
Bologna: 3-weekly from 6 June
Hannover: 3-weekly from 3 June
Lyon: 2-weekly from 3 June
Nuremberg: 2-weekly from 6 June
Palma de Mallorca: 2-weekly from 11 June
Salzburg: 3-weekly from 3 June
Trieste: 3-weekly from 3 June
Three of the new routes are to airports in Italy, two are to Germany, with one each in Austria, France and Spain. This will bring the number of scheduled destinations served non-stop by the carrier this summer from Belgrade to over 50. In addition, the airline is also operating an extensive charter programme for tour operators.