New Route of the Day (21 June 2023): Sichuan Airlines between Chengdu and Istanbul IST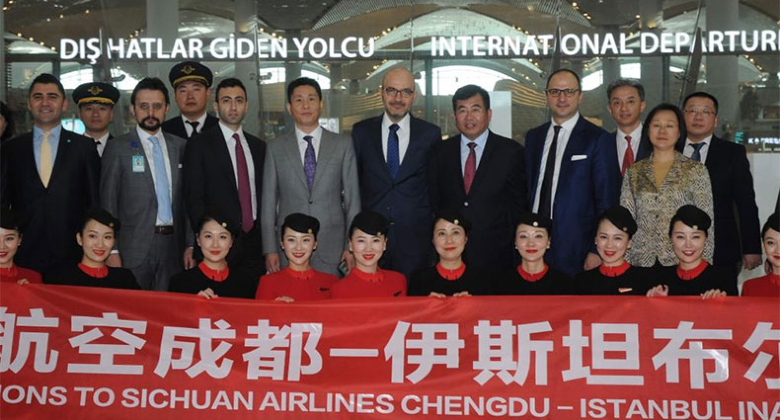 Sichuan Airlines introduced flights between its Chengdu hub and Istanbul IST on Wednesday 21 June, marking the route's resumption following a three-year hiatus. The service will operate 2-weekly on Mondays and Wednesdays, with the 301-seat A330-300 aircraft. It faces no competition on the route.
Flight 3U3827 departs Chengdu at 01:25 local time, arriving in Istanbul IST at 06:00 local time. The return service, operating as flight 3U3828, takes off from Turkey's largest city at 21:35 local time, touching down back in China at 10:55 local time the following morning.
What they said
Turgay Yaman, Istanbul Airport's Corporate Relations Director, said: "The Chengdu-Istanbul flights resumed following the recent opening of the Chengdu Consulate General, the fifth diplomatic representation of the Republic of Turkey in China, and will contribute to taking the close cooperation between the two countries to even greater levels."
Only two Chinese carriers in Istanbul
Chinese airlines have been slow to restore operations into Istanbul. In addition to Sichuan Airlines, the only other Chinese carrier serving the Turkish city is China Southern Airlines, which maintains operations from Beijing PKX. As a result, the bulk of Istanbul's China traffic is handled by Turkish Airlines, with the national carrier operating flights to Beijing PEK, Guangzhou, Hong Kong and Shanghai PVG.
Sichuan Airlines launched services from Chengdu to Istanbul in April 2019, which was suspended in February 2020 due to the pandemic.
Istanbul's 91st airline
Among Istanbul IST goals for 2023 is to increase its number of operating carriers to 100. Sichuan Airlines becomes the 11th airline to start flights to Istanbul IST in 2023, with the total number of carriers now amounting to 91.
Istanbul IST has continued to maintain its position as the second busiest in Europe, behind only London LHR. The airport handled almost 28.9 million passengers during the January - May period, representing an increase of 34.5% on last year and up 10.4% on the pre-pandemic 2019.