New Route of the Day (21 May 2022): Luxair between Luxembourg and Sylt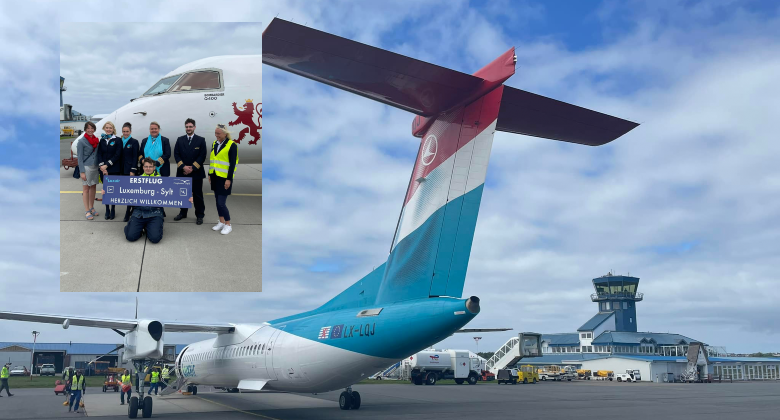 Luxair has added the northern German airport of Sylt to its route network. Service on the 610-kilometre link from Luxembourg began on 21 May. The route will operate 2-weekly during the summer season, on Wednesdays and Saturdays, using the airline's Q400s. No other carrier connects these two airports. This becomes Luxair's sixth destination in Germany this summer as it also serves Munich (12-weekly), Berlin (11-weekly), Hamburg (6-weekly), Heringsdorf (2-weekly) and Rostock-Laage (weekly). All these routes are served by the airline's 76-seat Q400s.
Popular beach destination for Germans
Sylt Airport serves the island of Sylt, which lies west of the German/Danish border. It is a popular holiday destination for Germans on account of its 40-kilometre sandy beach. Sylt is connected to the German mainland by an 11-kilometre causeway which opened in 1927. The causeway features a railway line, but no road, so vehicles have to be transported on trains. As the line is not electrified diesel trains have to be used.
The airport first offered scheduled flights as long ago as 1919. Since then, the facilities have been significantly expanded. Last year the airport handled 102,000 passengers, 16% more than in 2020. Apart from Luxembourg, the following airports have non-stop service to Sylt this summer:
Düsseldorf: 6-weekly with Eurowings using A319/A320
Frankfurt: 4-weekly with Lufthansa using E190/CRJ900
Hamburg: 6-weekly with Sylt Air (IATA code 7E) using Cessna
Kassel: weekly with Rhein-Neckar Air using Dornier 328
Mannheim: 3-weekly with Rhein-Neckar Air using Dornier 328
Munich: 6-weekly with Lufthansa using A319/CRJ900
Stuttgart: 4-weekly with Eurowings using A319/A320
Zurich: 5-weekly with SWISS using A220-300/E190
For parts of the last three summers (2019, 2020 and 2021), easyJet has offered weekly flights from Berlin, first from Tegel and then from the new Berlin airport. However, the route is not bookable for this summer, leaving Berlin without a non-stop service to Sylt.