New Route of the Day (23 April 2023): Lufthansa between Frankfurt and London LGW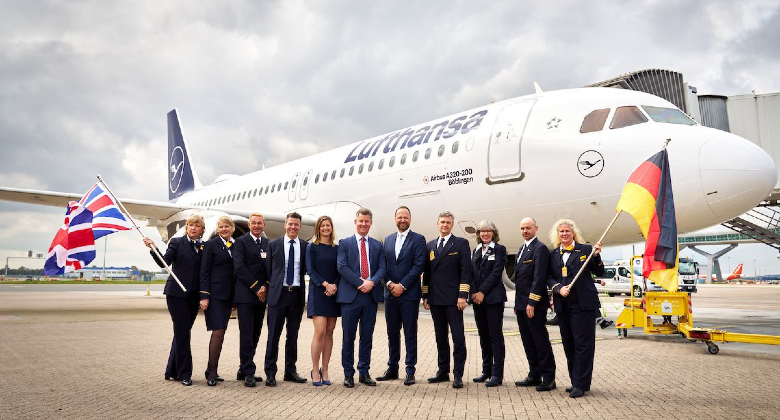 Lufthansa added flights between Frankfurt and London LGW on Sunday April 23, as part of its summer expansion. The German carrier will maintain the 2-daily 630-kilometre service with A320-familly aircraft. It faces no direct competition on the route. Gatwick becomes the third airport in London to be served by Lufthansa, joining Heathrow and City.
What they said
Jonathan Pollard, Chief Commercial Officer at London Gatwick Airport, said: "It's a fantastic day for Gatwick, something we have been looking forward to for some time. We are delighted to welcome Lufthansa to the Gatwick family, a world-renowned, prestigious carrier, won many awards over the years for service and performance. A real credit and addition to the suite of carriers we already have here. There is an important business angle. We know local communities are looking for more business connections and Frankfurt is one of the world's major financial hubs. Frankfurt Airport itself is the seventh largest in the world for international traffic so there is an incredible amount of connections from Frankfurt for those who are wanting it."
Henri Lange, Senior Director for Sales Northern Europe at Lufthansa, added: "It's always great to open new routes, for us it will be the 11th destination in the UK for Lufthansa and 13th destination in total for the group. We want to be where our customers are and Gatwick is in a great place to not only serve the south of London but also Sussex and all the connected regions. We are really excited to be closer to our customers here and hopefully our new double-daily flights will serve that purpose."
Lufthansa has 16 UK routes
Lufthansa serves the UK market exclusively from its Frankfurt and Munich hubs, with its Eurowings subsidiary handling traffic from other German airports. Lufthansa's UK network includes:
Frankfurt: Belfast BHD, Birmingham, Bristol, Edinburgh, Glasgow, London LCY, London LHR, London LGW, Liverpool, Manchester, Newcastle
Munich: Birmingham, Edinburgh, Jersey (summer seasonal), London LHR, Manchester
According to the UK Civil Aviation Authority, a total of 1,303,717 passengers flew on nonstop flights between London's airports and Frankfurt last year.