New Route of the Day (23 April 2023): Lufthansa between Frankfurt and Skopje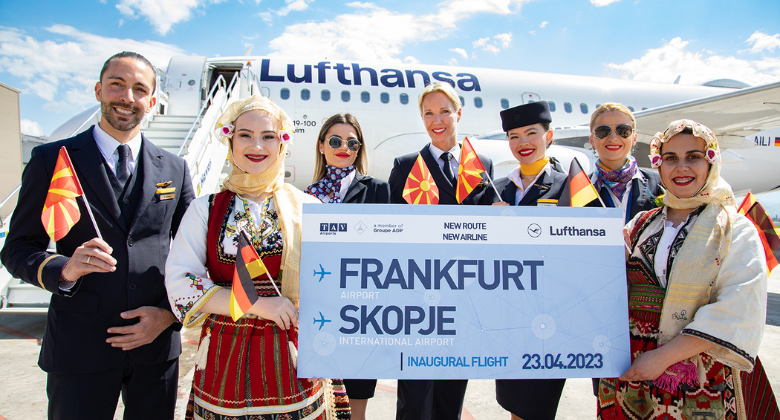 Lufthansa introduced flights between Frankfurt and Skopje in North Macedonia on Sunday April 23. The 1,350-kilometre 10-weekly service will be maintained by a mix of A319 and A320 aircraft. It marks the first time Lufthansa has flown to Skopje, becoming only the third Lufthansa Group carrier to serve the city after Austrian Airlines, which has been present on the North Macedonian market since 1998, and Edelweiss. Lufthansa faces no direct competition on the route.
What they said
Metin Batak, General Manager of airport operator TAV Macedonia, said: "This daily frequency is an excellent addition for our passengers who often travel to Germany, as well as those who will use Frankfurt as a transfer hub to reach North America or other far away destinations on different continents. Lufthansa's Frankfurt - Skopje route is important for the Macedonian diaspora, for those traveling for business purposes, as well as for tourism and leisure. Additionally, it'll give new options for cargo transport, as Germany is North Macedonia's main trade partner. We are confident that Lufthansa's presence will add a new value for all travellers from Skopje Airport."
Peter Pullem, Senior Director Sales for Central, Eastern Europe, Russia, CIS and Israel, for the Lufthansa Group, added: "With over 100,000 Macedonians living in Germany, Skopje is a very attractive destination for their family and friends from North Macedonia. As a result of the high demand for flights to Germany and beyond, we are now able to offer our passengers a nonstop service to our largest hub in Frankfurt with A319, A320 or A320neo aircraft."
Wizz Air dominates in Skopje
Wizz Air is Skopje's main carrier, handling 60% of all the airport's passenger traffic in 2022. Germany is Skopje's largest market, with the ULCC operating flights from its North Macedonian base to ten cities in the country, including Berlin BER, Bremen, Cologne, Dortmund, Frankfurt HHN, Friedrichshafen, Hamburg, Karlsruhe/Baden-Baden, Memmingen and Nuremberg. Up until now, it had no competition from other carriers on flights between Skopje and Germany.