New Route of the Day (23 June 2023): Edelweiss Air between Zurich and Biarritz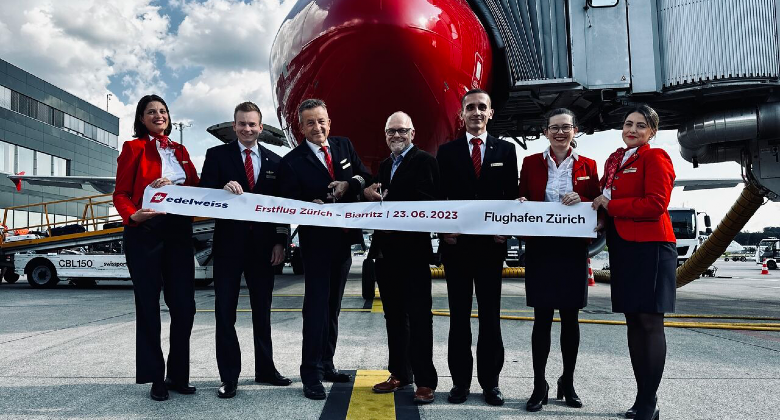 Edelweiss Air introduced a new seasonal service between Zurich and Biarritz in France's Basque Country on Friday 23 June. The new 900-kilometre routes will be maintained 2-weekly on Tuesdays and Fridays with the A320 aircraft. The carrier faces no competition between the two cities. Services will be maintained until 8 September.
Biarritz targets one million passengers
Situated on France's Atlantic coast, Biarritz is a popular tourist destination known for its beaches, surf, and luxurious resorts. In 2019 the city hosted the 45th G7 summit. Its airport serves the Basque Country region, including the cities of Bayonne and Anglet. Last year, it handled over 931,000 passengers, which is still short of its pre-pandemic 2019 result of 1.06 million. Its busiest year to date was 2017 when it handled just over 1.19 million passengers.
Air France, easyJet, Ryanair and Transavia maintain year-round operations to Biarritz, with a further six airlines operating only over the summer season. The French flag carrier maintains the biggest network out of the city, with two year-round and five seasonal destinations. During S23, apart from Edelweiss Air's new service from Zurich, Lufthansa introduced weekly flights from Frankfurt, while Air France will add a weekly service from Ajaccio on 1 July.
Edelweiss Air holds 10% of Zurich's capacity
Edelweiss Air is Switzerland's third-largest airline behind SWISS and easyJet. Self-described as Switzerland's leading holiday airline, Edelweiss Air has 1.3 million departing seats from Zurich this summer – not quite exceeding the record set in S22 – accounting for 10% of Zurich's total. Using its own A320s and A340s, along with wet leased A220s, A320neos and A321s from sister SWISS, Edelweiss's summer network comprises 86 destinations in 36 countries.
This summer, 70% of Edelweiss's seats are within Europe. Apart from Biarritz, the carrier has also introduced flights to Bari and will add Akureyri from 7 July. Despite describing itself as a holiday airline, Edelweiss still serves VFR markets, with Kosovo's Pristina being its most served route.