New Route of the Day (23 June 2023): Eurowings Discover between Frankfurt and Montpellier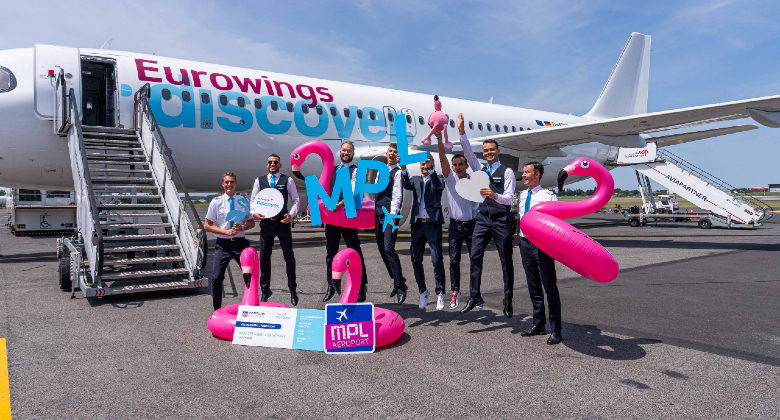 Eurowings Discover launched a new seasonal service between Frankfurt and Montpellier in southern France on Friday 23 June. The 800-kilometre service will run weekly until 8 September. The airline will utilise an A320 on the route. It faces no competition between the two cities.
Flight 4Y614 departs Frankfurt at 12:50 local time, arriving in Montpellier at 14:25 local time. The return service, operating as 4Y615, takes off from the French city at 15:10 local time, touching back down in Germany at 16:50 local time.
What they said
Marco Gotz, Chief Revenue Officer at Eurowings Discover, said: "We are a new company that focuses on beaches and tourist destinations that attract vacation-seeking travellers. Of course, Montpellier was on our list! Its magnificent coast, its beautiful beaches and its rich heritage make this city an attractive destination. Summer, which is the height of the tourist season, seemed like the perfect time to launch this flight. Our objective is twofold. On the one hand, we want to offer travel solutions to passengers who want to go on vacation, including those who currently travel by car, so that they can easily reach their desired destinations or visit their German friends living in Montpellier. On the other hand, we can also offer a connection to Frankfurt for travellers from all over Europe, allowing them to reach Montpellier easily and without going through Paris."
Emmanuel Brehmer, CEO of Montpellier-Méditerranée Airport, added: "We are happy and extremely proud to welcome the Lufthansa Group back to Montpellier through its subsidiary Eurowings Discover. This is an opportunity for residents of the Montpellier area to benefit from Lufthansa's vast network via its Frankfurt hub. Finally, with this second access point to the German market, we are completing our coverage of Germany."
Montpellier targets 1.8 million passengers
Montpellier was one of the fastest recovering French airports for the second year running in 2022, when it welcomed more than 1.7 million passengers – just 9% fewer than before the pandemic. During S23, a total of 34 airports in 15 countries will be linked to Montpellier. Overall, seat capacity this summer is forecast to be comparable to the summer of 2019. By the end of the year, Montpellier Airport expects more than 1.8 million passengers to have passed through its terminals.