New Route of the Day (23 June 2023): Norwegian between Oslo OSL and Skopje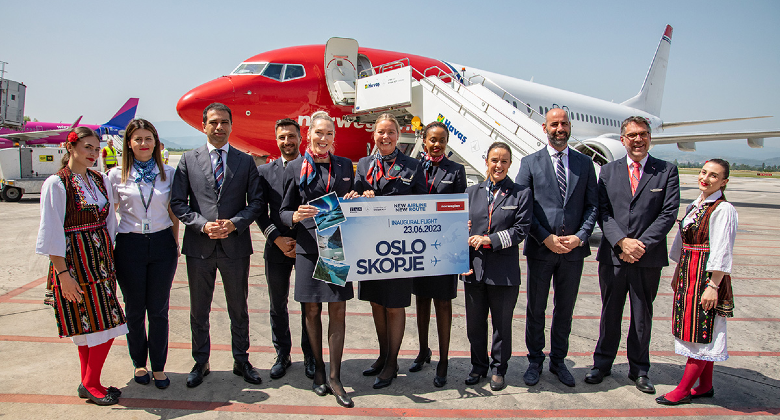 Norwegian entered the North Macedonian market on Friday 23 April by introducing flights between Oslo OSL and Skopje. The 2,155-kilometre service will be maintained 2-weekly with the carrier's 186-seat 737-800s on Mondays and Fridays. It faces no direct competition on the route, however, Wizz Air maintains operations between Skopje and Oslo TRF. Norwegian's new service will run until 18 August.
What they said
Magnus Thome Maursund, Chief Commercial Officer at Norwegian, said: "We are pleased to be present in Skopje and look forward to welcoming new passengers on board. Oslo has historic sites, situated by the fjord, and is a popular destination for many tourists. We also look forward to flying many Norwegians to Skopje here in beautiful North Macedonia this summer."
Nejat Kurt, General Manager of Skopje Airport operator TAV Macedonia, added: "As TAV, we are excited to welcome and celebrate Norwegian's entry onto the Macedonian market. We are happy that the airline started its operations and we look forward to a long-term and successful cooperation and many happy and satisfied passengers."
Blagoj Bocvarski, the Minister for Transport and Communications in the North Macedonian government, noted: "Norwegian's entry onto the Macedonian market is only a confirmation of the successful policies that we implement together with TAV Macedonia. By creating favourable conditions for airlines, we bring the country closer to European markets. Up until now, from Skopje Airport we were connected to Oslo through Wizz Air, but with this new route Norwegian will provide an additional alternative and an opportunity to improve the economy, tourism and other links with Norway. I am confident that it will open many new perspectives and cooperation between the two countries."
Skopje adds two new airline this year
Wizz Air is Skopje's main carrier, handling 60% of all the airport's passenger traffic in 2022. However, the airport has diversified its offer of airlines this year. Apart from Norwegian's entry onto the market, Lufthansa commenced a 10-weekly service between Frankfurt and Skopje in April.
Skopje will get additional new routes later this year, with Wizz Air to launch operations from to Ljubljana on 27 September, followed by services to Luxembourg, commencing on 18 December.
Relying heavily of VFR traffic, Skopje has recovered quickly from the pandemic. The airport handled almost one million passengers during the January – May period, representing an increase of just over 13% on the same period in 2019.