New Route of the Day (23 May 2023): FlyArystan between Astana and Ankara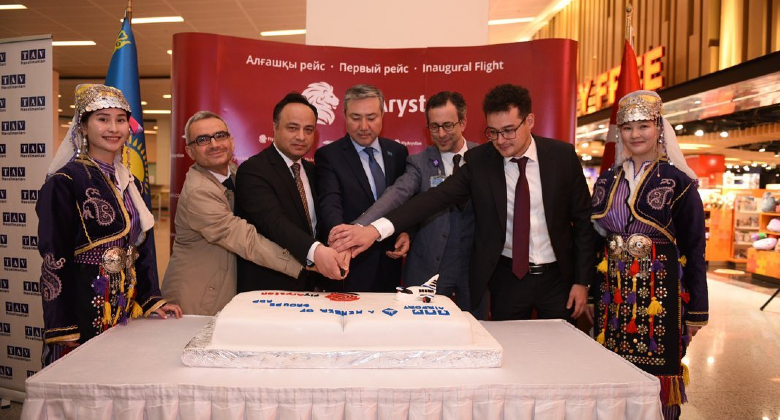 FlyArystan, the LCC subsidiary of Kazakhstan's Air Astana introduced a new 2-weekly service between Astana and Ankara on Tuesday 23 May. The 3,195-kilometre service will be maintained on Tuesdays and Saturdays with the 180-seat A320 aircraft. It becomes FlyArystan's second destination in Turkey after Istanbul SAW. The LCC competes directly against Turkish Airlines' lower cost brand AnadoluJet, which commenced a 2-weekly service between the two cities in December 2022.
Flight KC7979 departs Astana at 14:15 local time, arriving in Ankara at 16:25 local time. The return service, operating as KC7980, takes off from the Turkish capital at 17:10 local time, touching down back in Kazakhstan at 00:55 local time the following day.
What they said
Renat Abulkhanov, Director of Network Planning at FlyArystan, said: "In 2021, Turkey became the first international destination in FlyArystan's route network. For a couple of years, the Turkish metropolis of Istanbul has become a favourited destination by Kazakhstan citizens and we hope that Ankara will also become a popular destination, both for tourists and for businesspeople traveling. In addition to Astana, the capital of Turkey will be available for residents of Almaty, Shymkent, Semey, Kyzylorda, Aktau and other cities of Kazakhstan, for which we are ready to offer convenient connecting flights at affordable prices."
Kazakhstan registers record air travel growth
Kazakhstan has seen significant growth in the air travel sector, handling 10.8 million passengers in 2022, which is over 15% above 2019 levels. It marks Kazakhstan's busiest year in the aviation sector since gaining independence from the Soviet Union in 1991. The figures are being fuelled by Air Astana, which has been expanding rapidly over the past few years. Furthermore, the sharp rise in demand for travel from Russia has attributed to the passenger growth over the past year. Kazakhstan has not joined in western sanctions imposed on Russia as a result of the war in Ukraine.
FlyArystan commenced operations in 2019 as a low-cost subsidiary of national carrier Air Astana. It initially maintained domestic flights but commenced international services in 2021 by launching operations between Turkistan and Istanbul SAW. The airline handled over three million passengers on its flights last year.
Located in Central Asia, bordering Russia and China, Kazakhstan is the world's ninth-largest country by land area and the world's largest landlocked country. It has a population of 19 million people, 15% of which is made up of ethnic Russians.