New Route of the Day (23 September 2023): Royal Jordanian between Amman and Düsseldorf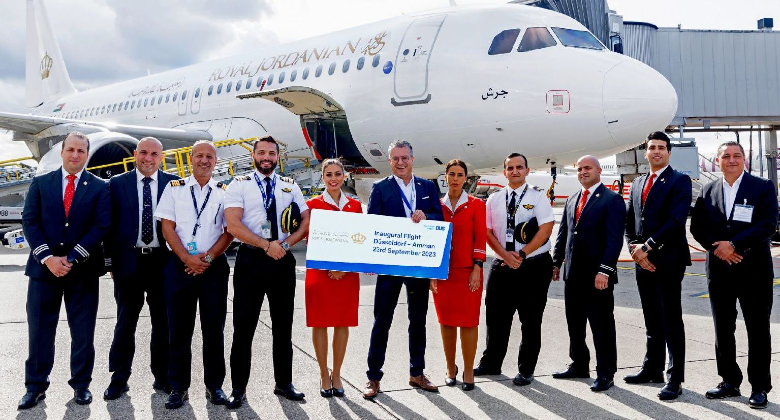 Royal Jordanian introduced flights between its Amman hub and Düsseldorf on Saturday 23 September. The 3,230-kilometre service will be maintained 2-weekly on Wednesdays and Saturdays with the 180-seat A320 aircraft. The carrier faces no competition on the route.
Flight RJ137 takes off from Amman at 10:55 local time, arriving in Düsseldorf at 15:00 local time. The return service, operating as RJ138, takes off from the German airport at 16:00 local time, arriving back in the Jordanian capital at 21:20 local time.
What they said
Karim Makhlouf, Chief Commercial Officer at Royal Jordanian, said: "It is my great pleasure to announce our new route to Dusseldorf in Germany, which will make it easier than ever for tourists from Germany to discover Jordan's incredible wonders. Helping promote and drive tourism to the Kingdom is a key focus of our new corporate strategy - as is our emphasis on further developing Amman as the primary gateway to the Levant, by offering improved connectivity to our broader network. This newest route is yet another step in line with RJ's ambitious five-year growth plan, which includes increasing our current fleet of 24 aircraft to more than 40 aircraft in the coming three to five years."
Nicolas Claude, CEO of Amman airport operator Airport International Group, added: "We are excited to receive this inaugural flight from the vibrant German city of Düsseldorf, emphasizing the steadfast efforts of all QAIA partners to steadily expand our destination network and link our passengers with major cities across the globe, while fostering a welcoming experience that feels like home via Jordan's prime gateway to the world."
Royal Jordanian strengthens German network
Düsseldorf becomes only the second destination in Germany to be served by Royal Jordanian, alongside Frankfurt. Jointly, the airline now maintains 11 weekly flights between Amman and Germany offering 2,054 weekly seats each way. In the past it has also served Berlin and Munich.
In addition to Royal Jordanian, the only other carrier operating between the two markets is Lufthansa with its daily service between Frankfurt and Amman. The German carrier deploys its A320 aircraft on the route.
Royal Jordanian expands European operations
As part of its ambitious five-year growth plan which aims at developing Amman as a tourism destination and transfer hub for the Levant region, Royal Jordanian has added a number of new routes to Europe this year. They include Antalya and Trabzon in Türkiye, which were launched in April, followed by Stockholm ARN in May, while services to Brussels will commence on 26 October.
Royal Jordanian currently maintains 87 weekly flights to Europe with 13,942 weekly seats on sale in each direction. In addition to the abovementioned, the carrier also serves Amsterdam, Athens, Barcelona, Geneva, Istanbul IST, Larnaca, London LHR, Lyon, Madrid, Milan MXP, Paris CDG, Rome FCO and Zurich in Europe.